My Go-To Fall Meal Prep Salad
Roasted vegetables with mixed greens & pesto dressing helps your mind & body flow with the change in season
The summer to fall transition isn't easy for everyone. If you've worked all summer and didn't make time to play and take in the season, it is harder to embrace the change. I always find adjusting our diets to the season helps us mentally transition.
In spring and summer we fill our diets with vegetables and plants that grow above ground such as leafy greens, green beans, stone fruit. In fall and winter we are soothed by food the grows deep into the ground. Root vegetables such as turnips, rutabagas, beets, parsnips, parsley root and burdock root. We also seek vegetables this time of year that grow right on the earths surface, like cauliflower, sweet potatoes, and yams. These vegetables make us feel grounded, connected to earth, hearty, soothing and a taste of home. Think about how the vegetable grows as that is the energy that is transferred to you.
Think about how the vegetable grows as that is the energy that is transferred to you.
Eating With The Seasons
This salad is an excellent transition meal and is great for meal prep. It is a balance of light leafy greens and fresh basil, with more hearty and grounding cruciferous vegetables. Because this dish requires you to roast three different types of vegetables, you will have extras to mix and match with your other meals throughout the week. I prefer to prepare four salads using all the ingredients, in equal measure. I store them individually in glass Pyrex bowls so I have healthy meals to grab no matter how my week flows.
Salad Dressing Options
I like to pair this dish with my Walnut Pesto Dressing. However, it does work well with any light vinaigrette or my Whipped Balsamic Vinaigrette. To make it easy to take to work, I store the salad dressing in mini sized glass jars.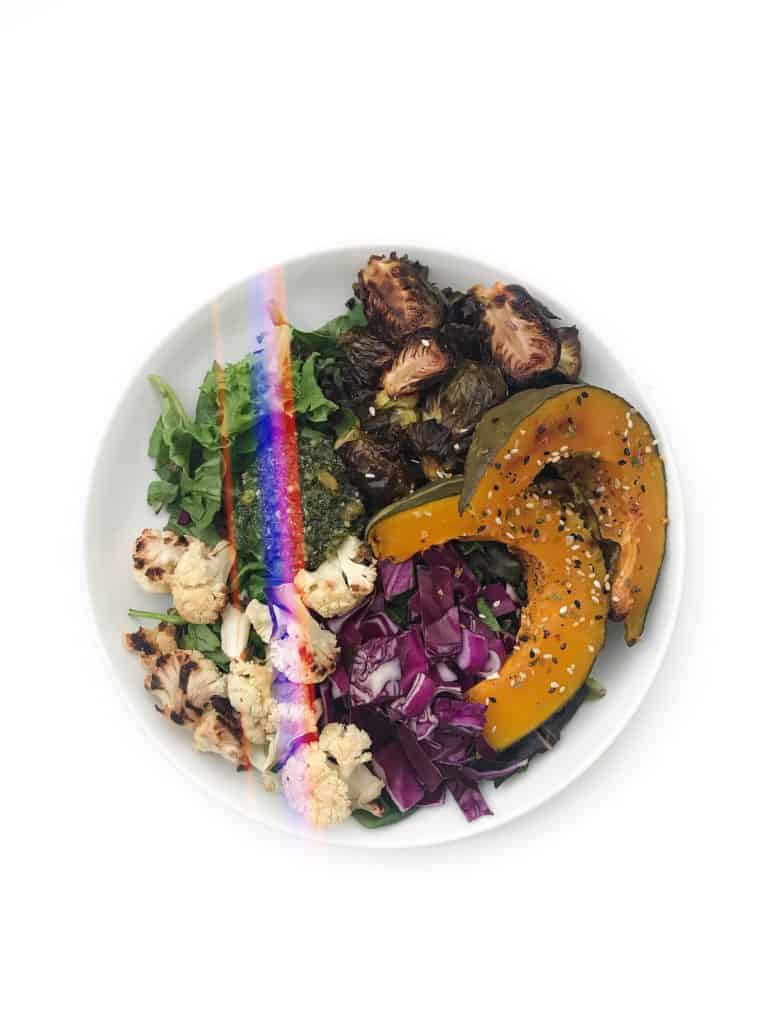 Print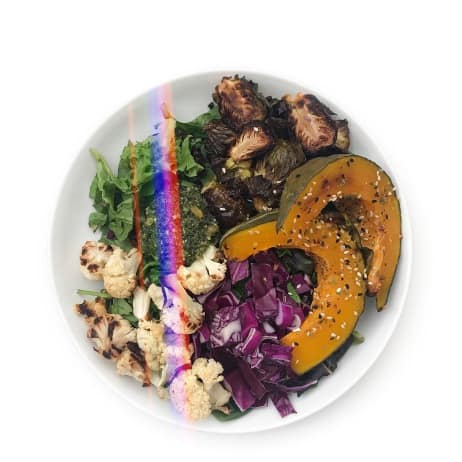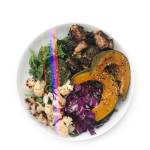 My Go-To Fall Meal Prep Salad
Author:

Chef Whitney Aronoff

Prep Time:

30 minutes

Cook Time:

30 minutes

Total Time:

1 hour

Yield:

4

servings

1

x

Category:

Salad

Method:

Roasting

Cuisine:

Seasonal American
---
Description
A great seasonal fall salad with kombocha squash, roasted brussels sprouts, and a basil pesto dressing. 
---
FOR THE SALAD
4 cups

packed of mixed greens, lightly chopped

1 ½ cups

red cabbage, sliced thin and chopped into small dice

1

bag brussels sprouts

1

cauliflower

1

kobocha squash, small
A sprinkle of gomasio
Extra-virgin olive oil
Sea salt and coarse pepper
FOR THE DRESSING
1

large box of basil (

4 oz

)

4

–

6

garlic cloves

1 ½ cups

extra-virgin olive oil

½ cup

walnuts
Pinch of sea salt to taste
---
Instructions
Preheat your oven to 400 degrees. Prepare 3 baking sheets with parchment paper. 
For the kobocha squash: Wash and wipe clean. Slice in half. Remove seeds. Drizzle with olive oil. Season generously with sea salt and course black pepper. Place face side down on parchment. Bake for 30 minutes, or till a fork easily punctures the squash. Remove from oven, let cool, then slice into half moons. 
For the brussels sprouts: Wash and pat dry. Slice in half. If the brussels sprouts are big, then quarter. You want bite sized salad pieces. Place on parchment, lightly drizzle with olive oil (no more then 2 tablespoons). Roast for 25 minutes, till they are just starting to brown (do not over cook). 
For the cauliflower: Slice florets into bite sized pieces. Spread out evenly on parchment paper (do not overcrowd or they will steam). Dry roast them (no oil or seasoning) for 25 minutes, or just starting to brown. 
Make your salad dressing in a food processor or small blender. Add garlic and pulse till minced. Add all the basil leaves (no thick stems), olive oil and sea salt. Pulse till desired consistency. Add walnuts and pulse again. Add sea salt to taste. Store in glass jar or airtight container. 
Assemble the salads. Toss salad greens and red cabbage together. Place in the bottom of the salad bowl. Distribute the brussels sprouts and cauliflower evenly on each salad. Arrange two slices of kombocha squash. Sprinkle with gomasio. Drizzle walnut pesto. Enjoy. 
---
Keywords: salad, roasted vegetables, kabocha squash, brussels sprouts, mixed greens, red cabbage, gomasio, fall salad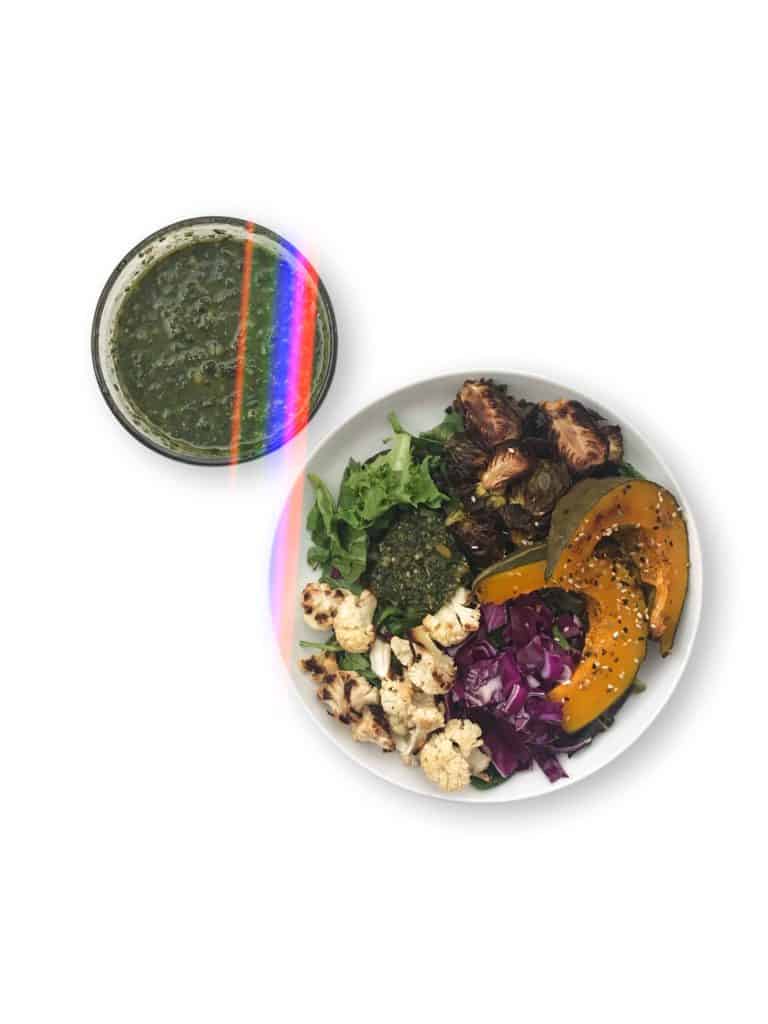 Chef Tip
If putting these salads away for use later in the week, refrain from adding the dressing till serving.
You may add additional protein to this dish. The following would complement the flavors in the salad nicely:
a fried egg
chicken breast
baked salmon filet
white beans such as cannellini or navy beans
beluga black lentils
goat cheese
ABOUT THE AUTHOR
Whitney Aronoff is a Natural Foods Chef based in Laguna Beach, California. She graduated from Southern Methodist University with a degree in Communications, and went on to culinary school at The Natural Gourmet Institute in New York. She works as a personal chef and teaches cooking classes, with a focus on healthy, whole foods cooking. You can follow her food and travel adventures on Instagram at @WhitneyAronoff or on her website www.WhitneyAronoff.com.