Shredded Coconut Balls Dipped in Dark Chocolate
These easy homemade treats are like healthy macaroons or coconut truffles. Raw, vegan, paleo, gluten-free and refined sugar free. This is a recipe that works for anyone in your family that needs a sweet treat.
I dip them in white chocolate or dark chocolate depending on the craving and season. Enjoy them plane or with chocolate as desired.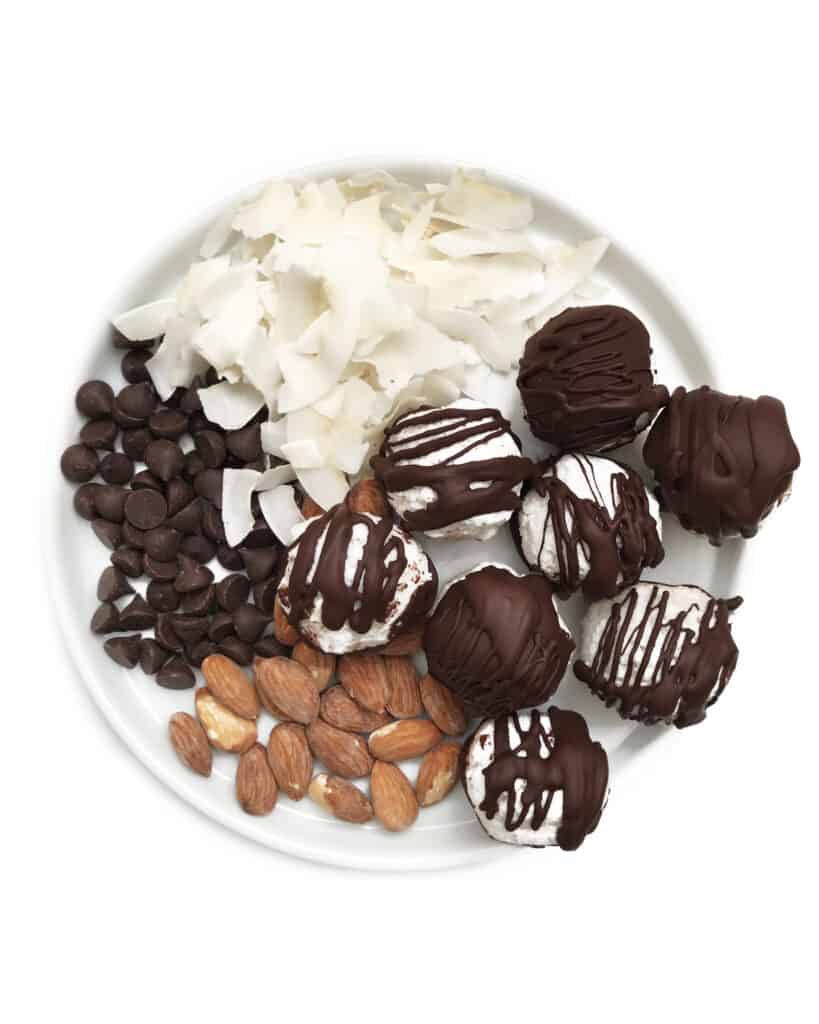 HOW TO MAKE RAW TRUFFLE BALLS
These treats are often referred to as bliss balls, energy balls, raw truffles or raw macaroons. Call them what you want, the trick is scooping the batter evenly for consistent size.
I like using a small ice cream scoop to make them. I use a size that is 1/8 cup or holds just a little more than 1 tablespoon, or .8 ounces. I use one similar to this small ice cream scoop.
HOW TO ROLL THE COCONUT BALLS
Prepare a plate or small baking sheet with parchment paper. Wax paper works to. What is most important is that the plate or tray fits into your freezer. You can use your fridge to let the balls sit and firm, just know it may take longer.
Using the ice cream scooper, measure out 8 balls on the parchment. Once you've used all the batter, then roll each one into a ball.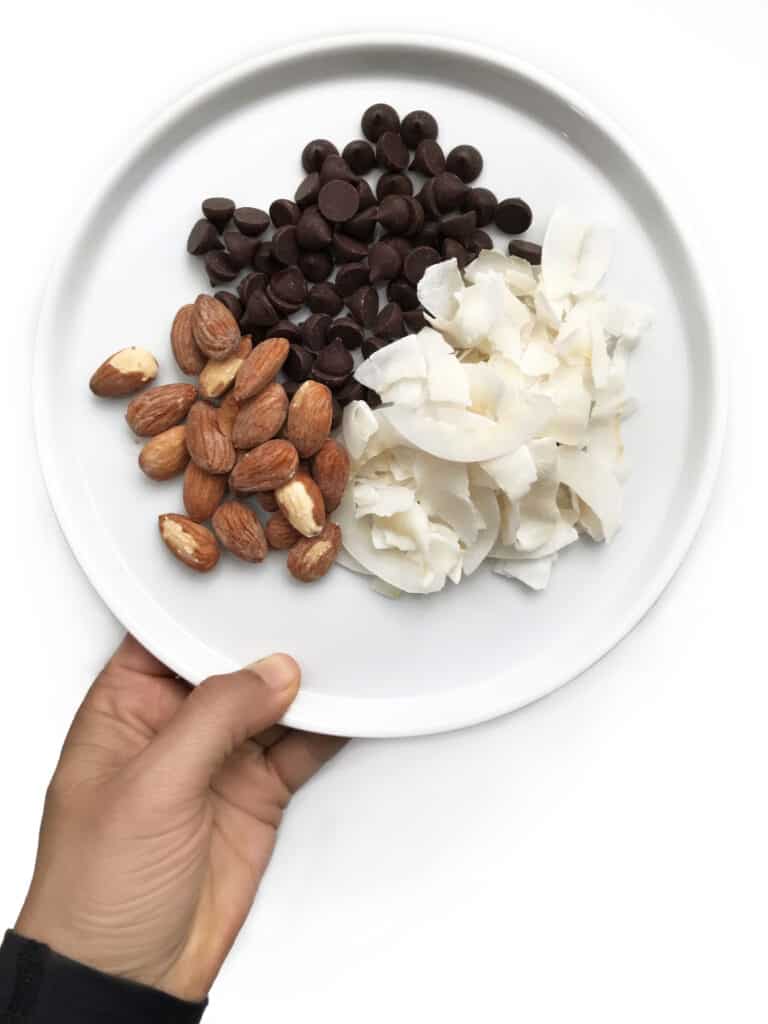 THE POWER IS IN YOUR HANDS
Have you every tried making one of your grandma's recipes? It never tasted quite the same as when she made it, right? That's because it was her hands, her mood, her energy that made the meal.
You have that ability too. You can shift the vibrartion and elevate the taste of your food too. How does one do that?
Say a positive word while you roll those balls. Repeat a mantra in your head. Or listen to music that makes you happy and sing. Your positive energy elevates the nutritionaly density and flavor of your food. Try it, start simple, and see how your food tastes and feels.
CHEF RECOMMENDED LOW SUGAR, VEGAN & PALEO CHOCOLATE BRANDS
I am passionate about getting the antioxidants and minerals from chocolate, but not the sugar. For years I have been sourcing chocolate at food shows and health stores for low sugar, alternative sugars or now sugar at all.
Below I share the chocolates I use for snacking, cooking, baking and using in raw desserts. These companies offer dark chocolate, use no soy-lecithin, no dairy, and alternative sugars such as coconut sugar, stevia, organice cane sugar or no sugar at all.
TRY THESE HEALTHY CHOCOLATES
I prefer working with chocolate that is 75% cacao and up. My personal preference is 85% to 100% cacao. All the brands listed offer these options.
Please reach for what you have available and what your taste buds like. As long as you enjoy it then it's right for you and your body.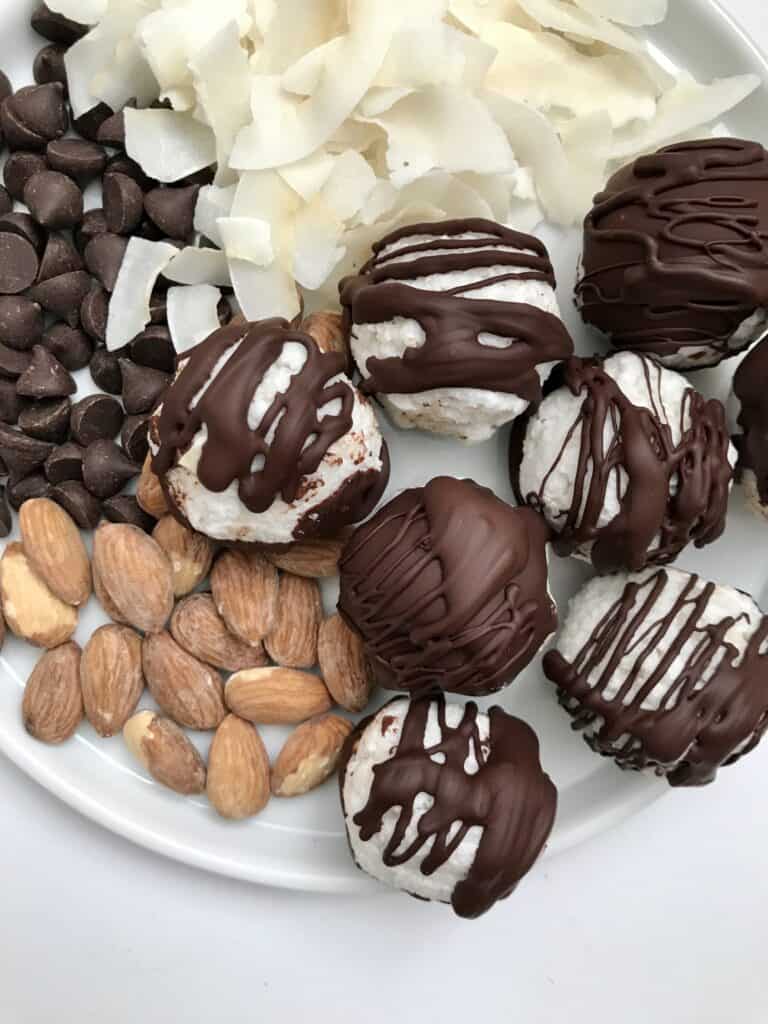 HOW TO SWAP INGREDIENTS FOR WHAT YOU HAVE
I'm all about using what you have and not making another run to the grocery store for one ingredient. Try these substitutions.
Sub coconut oil for coconut butter, ghee or organic butter
Sub coconut cream for coconut milk by discarding the liquid and only using the cream. You can do this by chilling the can for 10 minutes.
Sub stevia for a teaspoon of date sugar, maple crystals, coconut sugar, raw cane sugar, or alternative sugar of choice.
CHEF TIP
Make sure your coconut flakes are sugar free. Double check the ingredients label. There should only be 1 ingredient listed. You can use wide or thin shreds.
Use room temperature coconut oil. You want it soft but not boiling hot. Warm it on the stove for a few minutes if necessary. Do not use liquid MCT oil. That is a processed coconut product and it stays liquid. You want real coconut oil that firms up when cold.
I like using liquid stevia in this recipe and other raw desserts. You are welcome to use regular powder stevia. Just add a pinch and increase your vanilla extract to ½ teaspoon or 1 teaspoon as desired.
Use the extra coconut cream to make another batch of these balls, or my Keto Coconut Kale for dinner (that's how I always use the left-over cream).
Store these treats in the freezer for 6-8 months. Let them sit at room temperature for 5-10 minutes before eating.
Stuff these treats with an almond if you desire. Add the almond by simply pushing into a ball before freezing.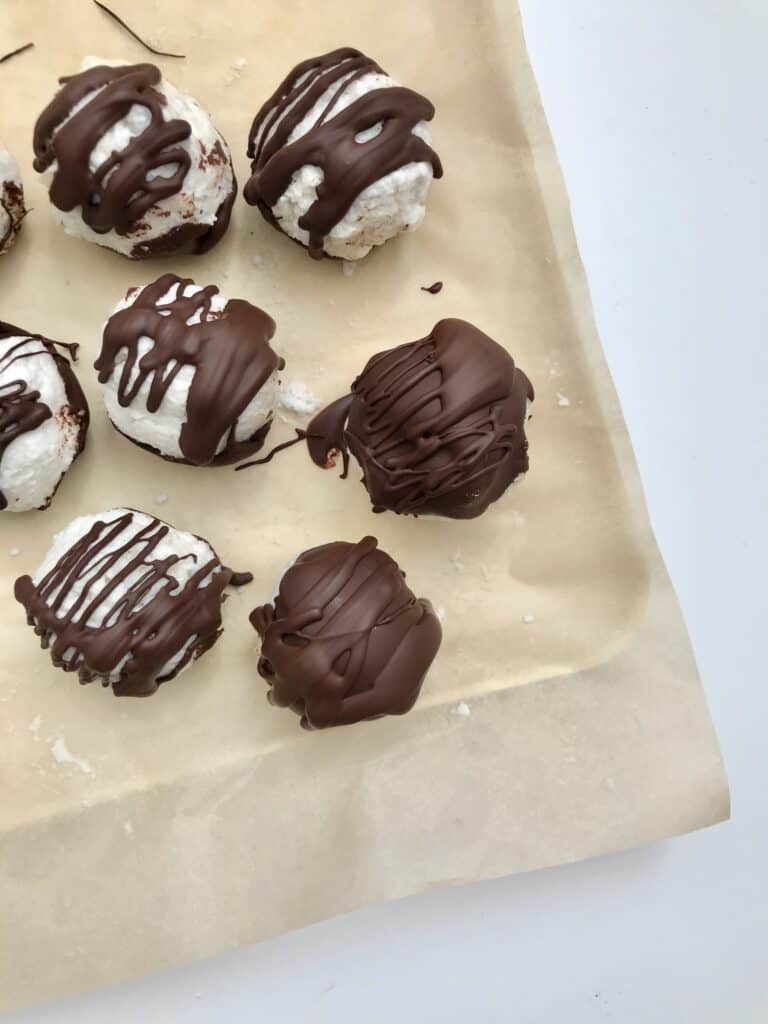 IF YOU LIKE THIS RECIPE, TRY THE FOLLOWING
Print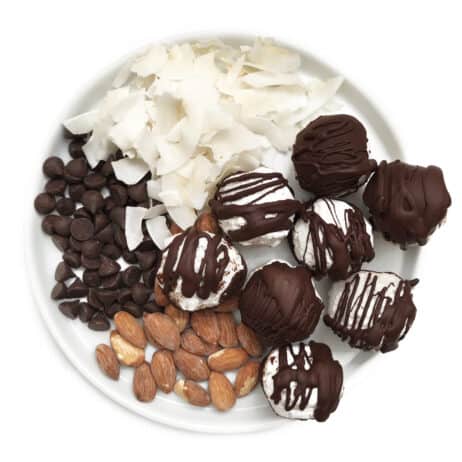 Shredded Coconut Balls Dipped in Dark Chocolate
Author:

Chef Whitney Aronoff

Prep Time:

10 minutes

Cook Time:

15 minutes

Total Time:

25 minutes

Yield:

8

1

x

Category:

Snack

Method:

Food Processor

Cuisine:

Healthy

Diet:

Vegan
---
Description
These coconut balls are often referred to as bliss balls, raw truffles or raw macaroons. Vegan, gluten-free, lectin-free, refined sugar free and guilt free.
---
1 ½ cups

shredded coconut 

2 Tbsp

coconut oil

1/3 cup

coconut cream

5

drops of liquid vanilla stevia

¼ tsp

vanilla extract

½ cup

dark chocolate chips or

½

dark chocolate bar chopped up
---
Instructions
Using a food processor, pulse all ingredients till combined and coconut is in tiny shreds. Mixture should be firm allowing you to easily scoop and roll into a ball.  
Using a small ice cream scoop or tablespoon, form small, even sized balls by rolling the batter in the palm of your hands. Say a positive affirmation or word while doing so to raise the vibration of your food.  
Prepare a piece of parchment paper on a plate or small tray. Place balls on parchment and chill in the freezer for 10 minutes. Prepare the chocolate by slowly melting in a bowl above a small pot of simmering water (a double boiler style). Stir till chocolate is almost melted and remove from heat. 
Dip one side of each ball into the chocolate. Return to the freezer and let firm for 2 minutes. Take remaining chocolate and using a spoon or small spatula, drizzle over the truffles. Enjoy immediately. Store in the fridge for 2 weeks or in the freezer for 6-8 months. 
---
Notes
Make sure your coconut flakes are sugar free. Double check the ingredients label. There should only be 1 ingredient listed. You can use wide or thin shreds. 
Keywords: coconut balls, coconut truffles, coconut macaroons, coconut bliss balls, chocolate coconut balls, raw coconut balls, raw chocolate truffles, raw coconut macaroons, raw mounds bar, raw mounds, coconut bliss balls, coconut chocolate truffle, coconut chocolate macroon, raw dessert, 5-ingredient raw dessert, 5-ingredient coconut balls, vegan coconut balls, gluten-free coconut balls
Thank you for reading. Follow Starseed Kitchen on Instagram, Facebook, and Pinterest for more Starseed Kitchen inspiration.