Vegan Thai Yellow Coconut Curry
Vibrant yellow Thai vegetable curry is food for the soul. Aromatic herbs and coconut milk make this dish healthy and nourishing.
Unlike most curry recipes, this dish is sugar free and checks all the boxes for a clean eating. Enjoy this dish paired with jasmine or brown basmati rice, fresh cilantro, and added greens like chard for additional nourishment.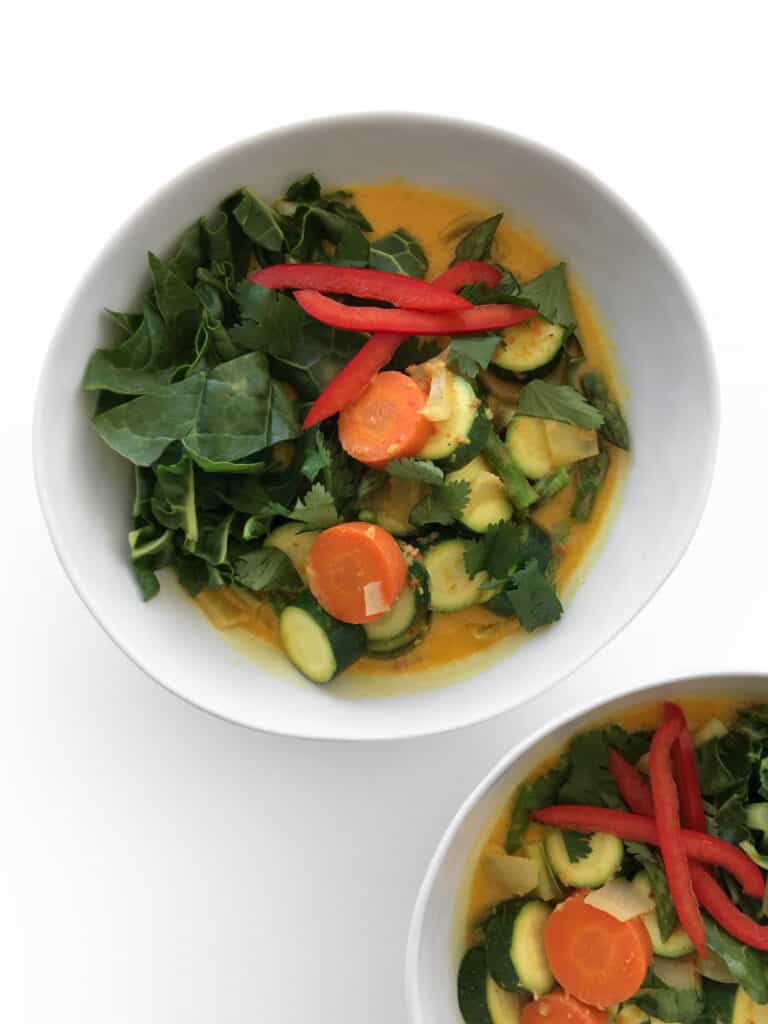 MAKING YELLOW CURRY HEALTHY
When I make curry dishes, I never add sugar. In traditional Thai cooking, you often enjoy a sweet sauce. This is from added sugar. As a health supportive chef, I work creatively to prepare my clients food without any added sugars.
For this dish, I am using the Hana sweet potato to naturally provide the sweetness you may be familiar to. This sweet potato has a white, yellow skin and flesh and you'll find it in any market that sells a variety of sweet potatoes.
The potato cooks quickly, blends well with the sauce and naturally adds the sugar your pallet is looking for.
MAKING THIS FOR MEAL PREP
I developed this dish for my Vegetarian clients. I prepare their custom meal prep every week and I know their preferred foods. They like extra vegetables, heavy on leafy greens, light on starches.
Each week I prepare 5 meal prep entrees with sides. We build the menu as follows.
One Soup or curry dish with fresh garnishes
Two beautiful hearty salads that can be enjoyed for lunch or dinner
Two savory seasonal dishes that can be warmed for lunch or dinner
With that in mind, this dish stores well for meal prep. Feel free to make your rice in advance, along with washing and storing your cilantro and sliced red bell pepper for garnish.
This dish freezes and reheats well.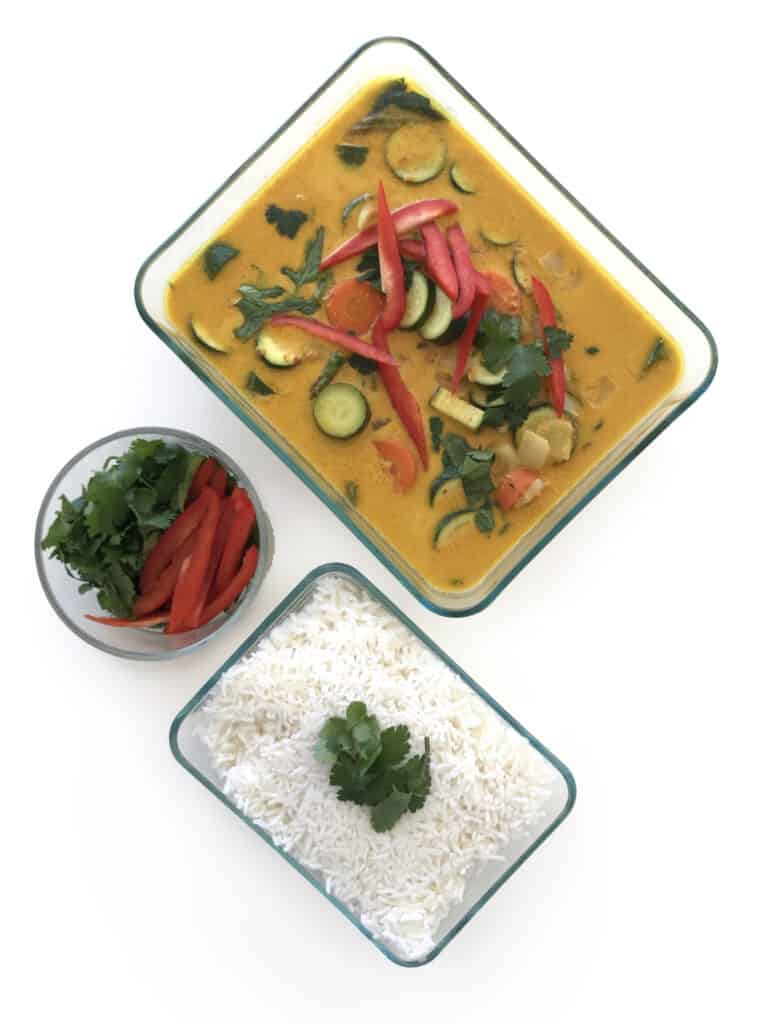 HOW TO STORE CILANTRO
As a chef and culinary school graduate, I've seen, heard and tried many ways to store fresh herbs. I regularly store my cilantro the Martha Stewart way.
For storing, you'll simply want to wrap your cilantro tightly in a paper towel. I use 3-4 sheets stuck together.
Roll the cilantro tightly, and place in an airtight back. You can use a Ziplock bag or the produce bag from the market. Looking to decrease your plastic use? Try a linen bag.
Either way, wrap tightly in the bag and remove any excess air. Store in the fridge for up to 1 week.
BENEFITS OF CILANTRO
For the record, I am a huge cilantro fan. I over garnish my plate with this herb as it is a natural detoxifier. My body and my palate just love it.
It is great of helping your body flush heavy metals. We collect and store heavy metals that get into our system from the air we breathe, the pans we cook our food in, and the water we bath in.
It's impossible to avoid heavy metals, so its great to be mindful of the foods we can eat to help our bodies naturally detox and stay balance.
DIETARY RESTRICTIONS
This dish is Vegan, Vegetarian, Gluten Free and Paleo. If you would like to make it Lectin Free simply remove the zucchini or peel it.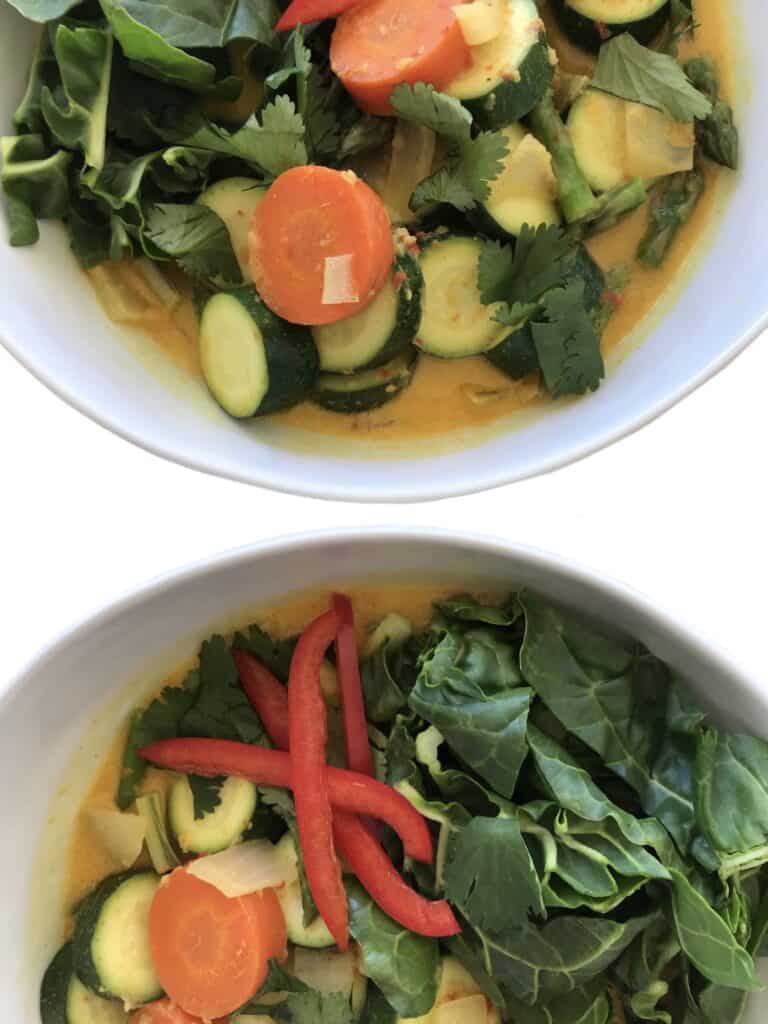 CHEF TIP
You can add all sorts of vegetables to suit your preferences. If you are avoiding nightshades, remove the zucchini.
Either way, feel free to add any of these vegetables to make this dish your own.
Baby bok choy or traditional bok choy, chopped into 1-inch pieces
Leafy greens such as spinach or kale, chopped into 1-inch pieces
Traditional potato or orange sweet potato (yam), peeled and medium diced
Green beans
Firm tofu, cubed
Red, yellow, green or orange bell pepper, sliced into 1-inch cubes
Cauliflower florets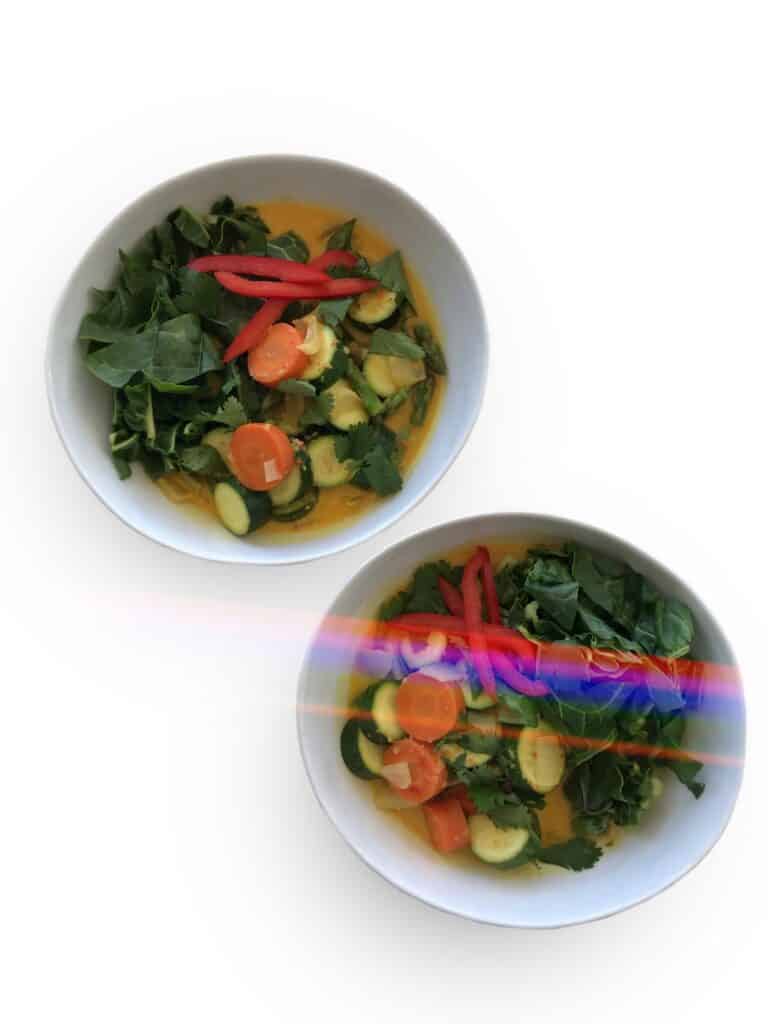 IF YOU LIKE THIS RECIPE, TRY THE FOLLOWING
Print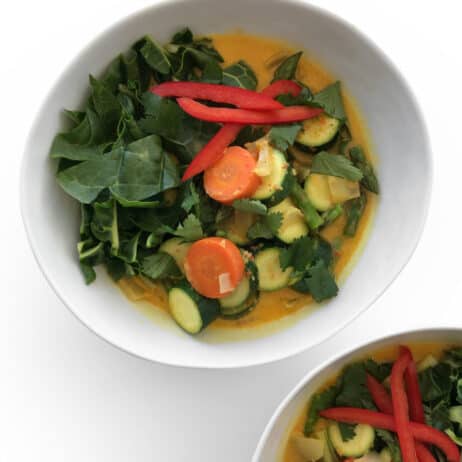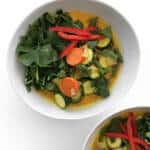 Vegan Thai Yellow Coconut Curry
Author:

Chef Whitney Aronoff

Prep Time:

10 minutes

Cook Time:

20 minutes

Total Time:

30 minutes

Yield:

4

servings

1

x

Category:

Dinner

Method:

Stove Top

Cuisine:

Health
---
Description
A truly clean and healthy yellow coconut curry that is sugar free. Pair with rice and fresh cilantro for a delicious and balanced meal.
---
2 Tbsp

coconut oil

½

yellow onion, small diced

1

small white sweet potato, medium diced

2 Tbsp

and ½ tsp sea salt, divided

½ tsp

coarse black pepper

1

jar yellow curry (I use Yai's Thai Yellow Coconut Curry)

1

can coconut milk

1 cup

vegetable broth

2

large carrots, sliced in 1-inch stew pieces

2

zucchini, sliced in 1-inch stew pieces

½

bunch of asparagus, 2-inch tips only

1

red bell pepper, sliced into thin matchsticks

1

bunch chard, green, red or rainbow

½

bunch fresh cilantro
---
Instructions
In a large soup pot, melt coconut oil over medium heat. Add onions and sauté till translucent for 5 minutes. Add sweet potato, sea salt, and black pepper. Stir well. Then add curry, coconut milk, vegetable broth and carrots. Bring to a boil and simmer for 10 minutes.
While the curry is simmering, in a separate medium pot, add 4 cups of water and 2 tablespoons of salt. Wash chard, trim 2 inches off stems and discard. Chop stems and green leaves into 1-inch pieces. Blanch in boiling salted water and immediately drain into colander. Set aside.
Add zucchini and asparagus tips to curry pot. Simmer for an additional 5 minutes.
Serve curry in bowls with a scoop of rice and a handful of chard. Garnish with red bell pepper and fresh cilantro.
---
Notes
You can add all sorts of vegetable to suit your preferences. Try adding green beans, cauliflower, bok choy or tofu.
This dish freezes well. Make extra and store for meal prep.
Keywords: vegan yellow curry, yellow curry, vegetable curry, vegetarian curry, vegan curry, vegan thai curry, vegan coconut curry, vegan yellow curry, yellow vegetable curry, thai curry, thai yellow curry, thai coconut curry, yellow coconut curry, vegan curry, yellow vegan curry, vegan yellow curry, vegan coconut curry, vegan thai vegetable curry, paleo curry, gluten free curry
Thank you for reading. Follow Starseed Kitchen on Instagram, Facebook, and Pinterest for more Starseed Kitchen inspiration.