Roasted Curry Cauliflower Salad
A one-sheet pan meal full of flavor
I am always looking for new ways to add turmeric to my food, and pairing it with curry powder and cauliflower is consistently my favorite way to do so. That's because it is gaining the reputation to be the single most important herb for many health and dietary needs. Turmeric has quickly become one of the most studied botanicals in modern science.
"If I had only one single herb to depend upon for all possible health and dietary needs, I would without much hesitation choose Turmeric."
– Dr. David Frawley, Founder of the American Institute for Vedic Studies
By now, we all know the anti-inflammatory benefits of turmeric. If you are new to this adaptogenic herb, here are the basics you need to know.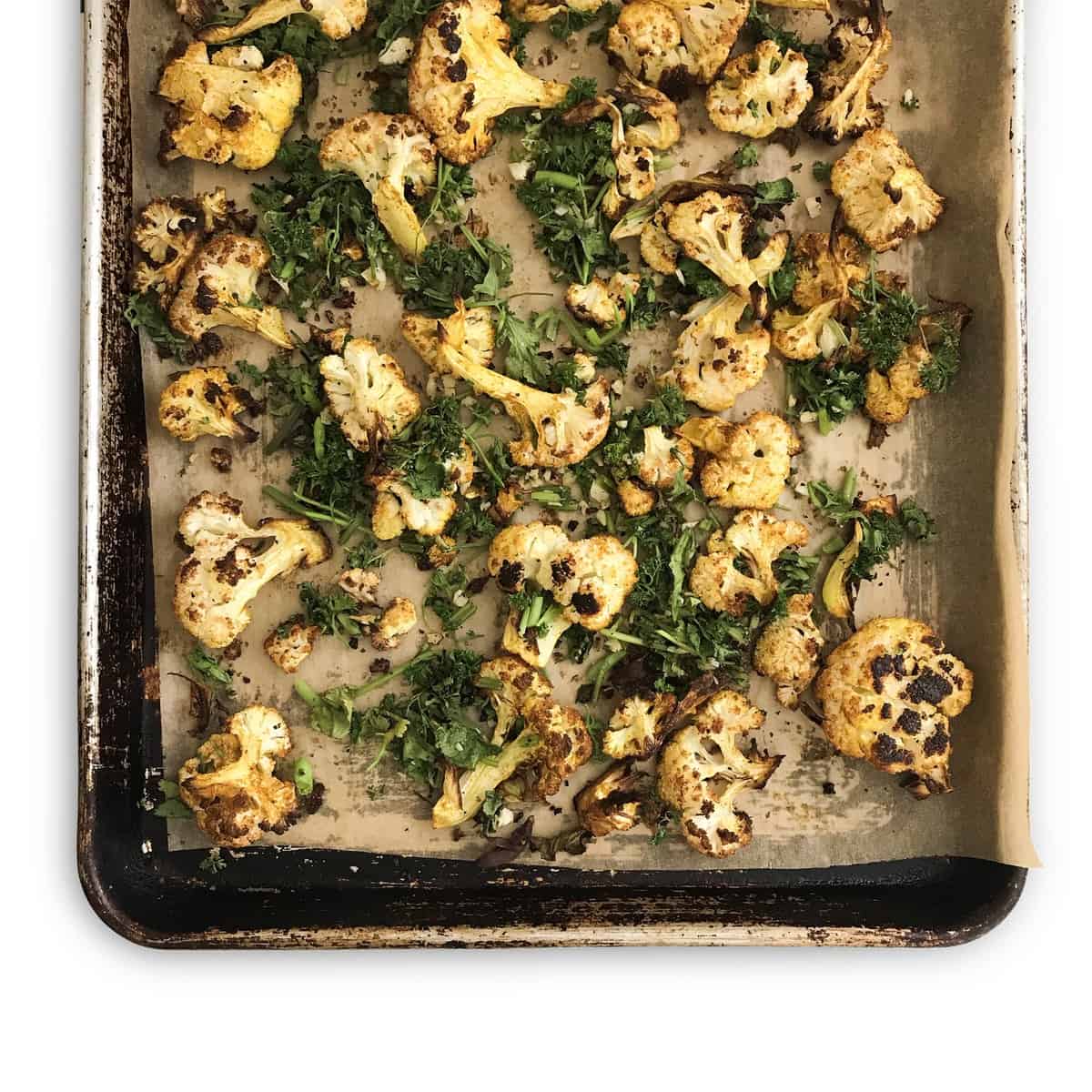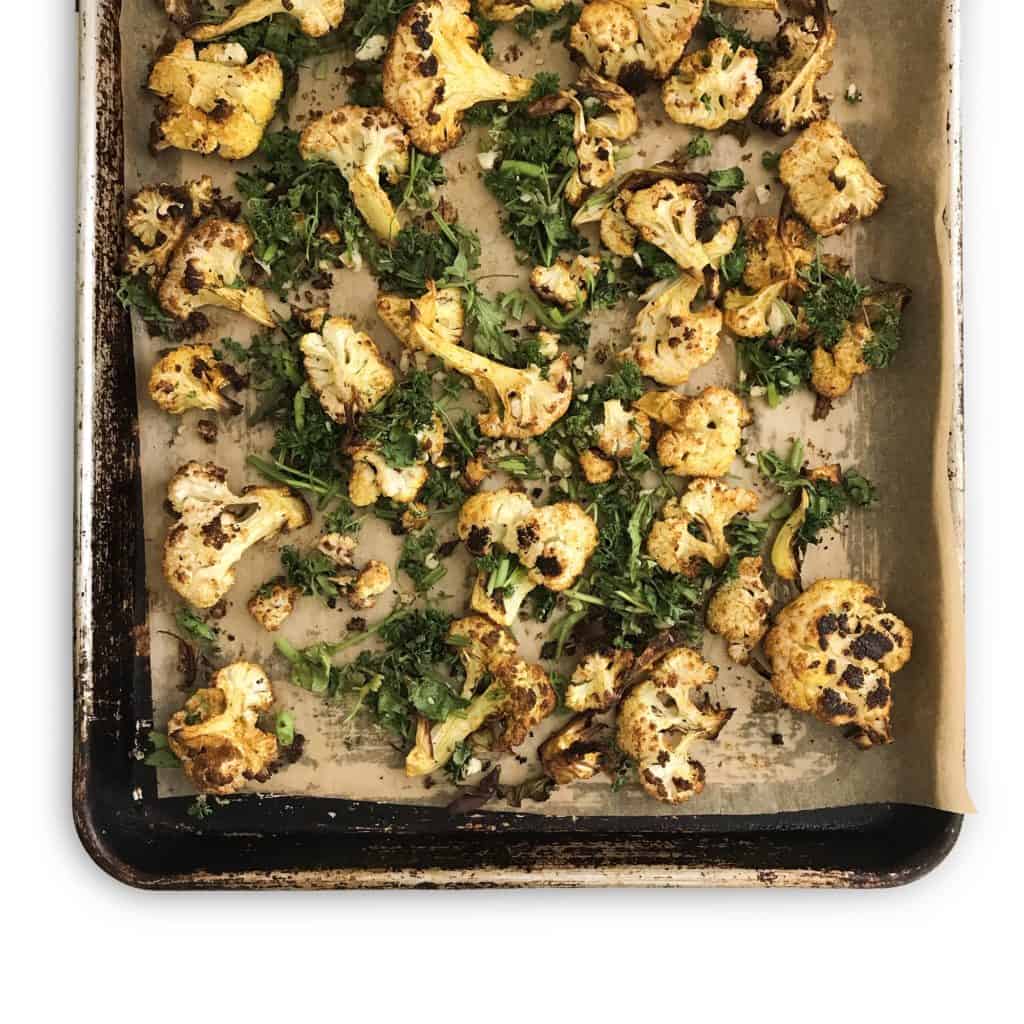 WHY TURMERIC IS SO GOOD FOR YOU
It has been traditionally used to support the following:
Joint mobility & muscle health
Anti-inflammatory, calming stress in our body
Digestive function
Heart health
Maintaining a healthy immune system
HOW TO GET THE MOST OUT OF TURMERIC
To make sure your body is absorbing all the benefits of turmeric, you have to eat it with fat and black pepper. The combination will improve its bio-availability. That's because turmeric is fat-soluble. Eating it with black pepper assists your body with absorbing the beneficial compounds in turmeric, like curcumin.
Prefer to take it in supplement form rather then with your food? Then look for a brand that has added black pepper to the supplement ingredients and suggests taking it with food and water.
Once you start cooking with turmeric, you'll see it is easy to start adding it to many of the dishes already in your weekly repertoire.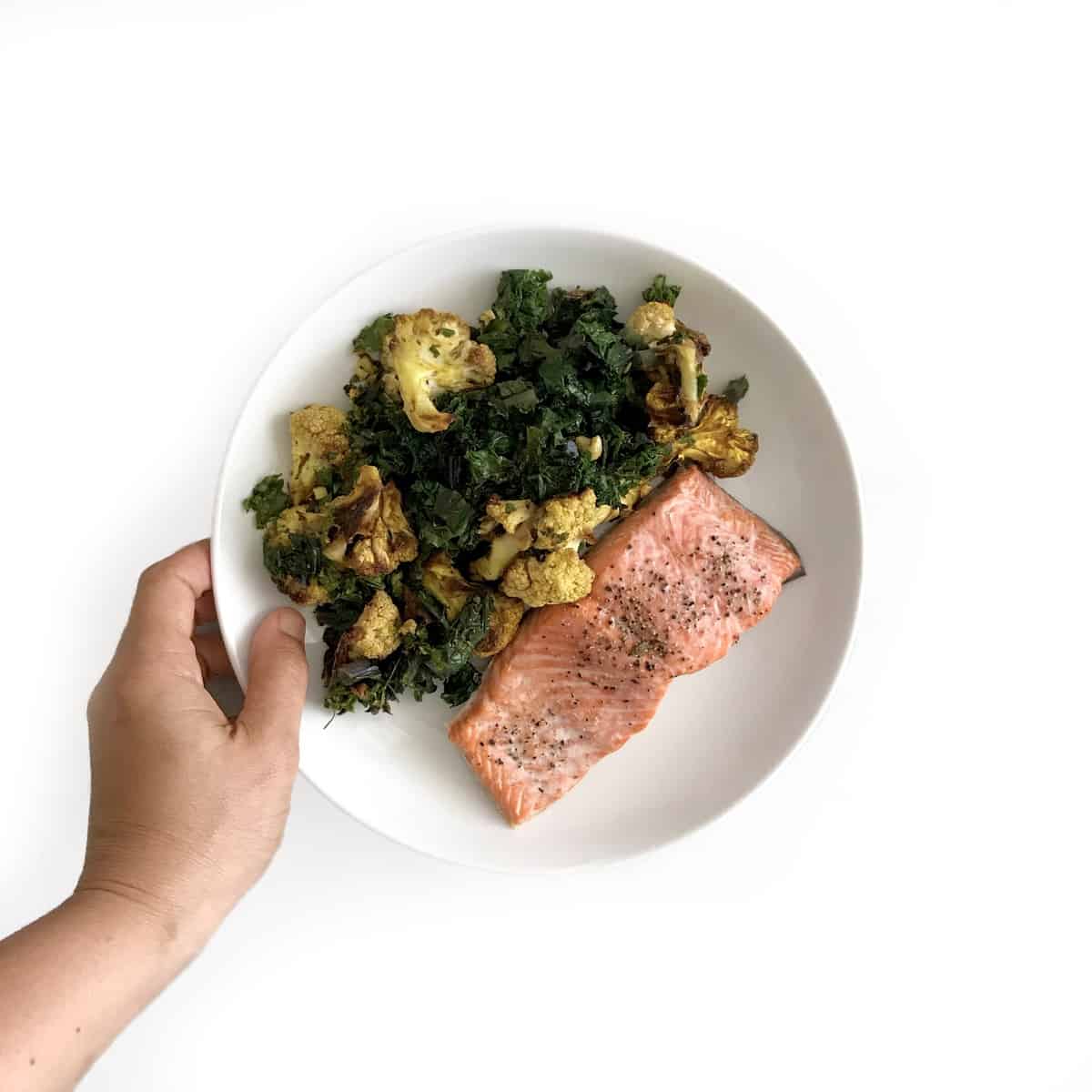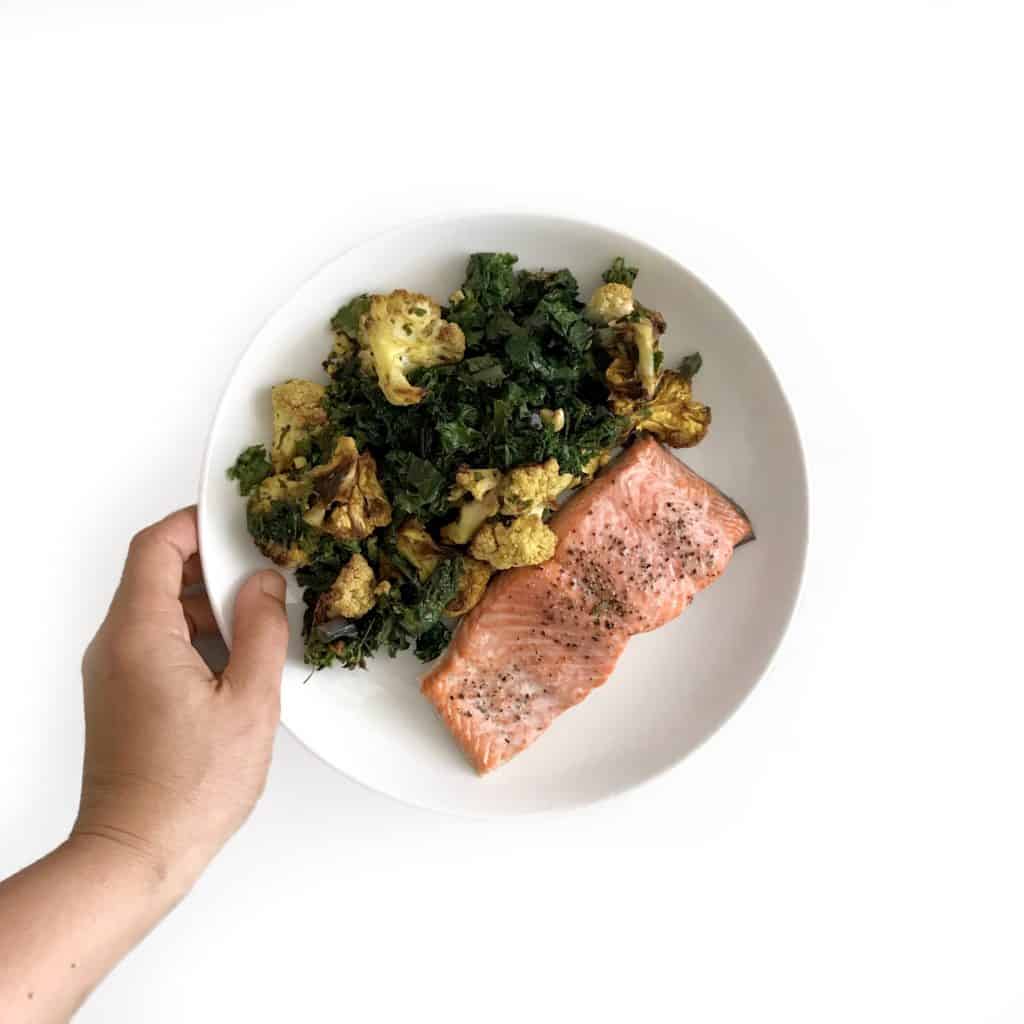 Print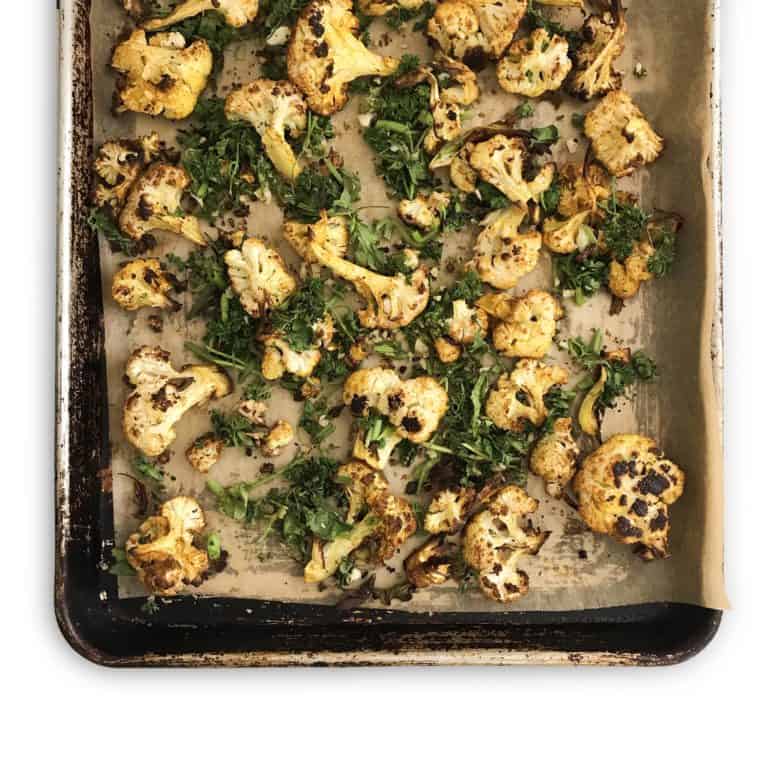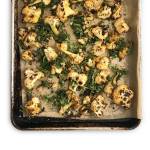 Roasted Curry Cauliflower Salad
Author:

Chef Whitney Aronoff

Prep Time:

10 minutes

Cook Time:

35 minutes

Total Time:

45 minutes

Yield:

4

servings

1

x

Category:

Salad

Method:

Roasting

Cuisine:

Healthy
---
Description
A one-sheet pan roasted cauliflower salad that can serve as a dinner side or full entree. 
---
1 large head of cauliflower
2 T of curry powder
2 teaspoons of turmeric powder
½ cup rough chopped cilantro
½ cup rough chopped flat leaf parsley
1 T minced garlic (about 4-8 cloves)
1 teaspoon sea salt
½ teaspoon black pepper

4

T olive oil
---
Instructions
Preheat your oven to 400 degrees. Break down cauliflower into florets. In a bowl (or bag) toss cauliflower in 2 tablespoons of olive oil. Then add curry powder and turmeric powder.
Line a baking sheet with parchment and spread out the cauliflower. Make sure the baking sheet is not over crowded or else the vegetable will steam, not roast. Bake for 35-45 minutes, depending on your oven and amount of florets. 
While the cauliflower is baking, prepare the cilantro, parsley and garlic. 
Once the cauliflower is 5 minutes from being done, remove from oven. Add the cilantro, parsley and garlic. Mix well. Drizzle with remaining 2 tablespoons of olive oil and sprinkle sea salt and black pepper. Place back in the oven for 7-10 minutes. Watch closely to make sure the herbs to not burn. 
Once the garlic has started to lightly brown and the cilantro and parsley have wilted, and their edges have gotten crispy, remove from oven. Enjoy. 
---
Notes
When roasting cauliflower (or any vegetable), make sure the baking sheet is not over crowded or else the vegetables will steam, not roast. 
Keywords: cauliflower salad, curry cauliflower salad, curry cauliflower, curried cauliflower, cauliflower side dish
CHEF TIP
Make this a full meal by adding golden raisins, slivered almonds, and blanched Tuscan kale. What you'll need:
1/8 cup golden raisins
¼ cup slivered almonds
1 bunch Tuscan kale, blanched
2 T seal salt
1 T olive oil
On the stove, fill a medium pot with 4 cups of water. Bring to a boil and add a generous amount of sea salt (about 2 tablespoons). Wash and chop your kale (even the stems). Add to pot, making sure all leaves and stems get covered by the water and immediately strain into a colander. Set aside to cool. Then strain excess water from leaves.
After removing the cauliflower from the oven with the garlic, cilantro and parsley, add the golden raisins and slivered almonds. Toss well.
Add the blanched Tuscan kale, and 1 tablespoon of olive oil. Toss well. Enjoy immediately or store in the fridge for up to 5 days.
ABOUT THE AUTHOR
Whitney Aronoff is a Natural Foods Chef based in Laguna Beach, California. She graduated from Southern Methodist University with a degree in Communications, and went on to culinary school at The Natural Gourmet Institute in New York. She works as a personal chef and teaches cooking classes, with a focus on healthy, whole foods cooking. You can follow her food and travel adventures on Instagram at @WhitneyAronoff or on her website www.WhitneyAronoff.com.