Baked Chicken Thighs with Herbs de Provence
If you like chicken wings, but always wish there was more meat, then the chicken thigh is for you. The chicken thigh is a mix or dark and light meat, which means it retains it juices, stays moist and has lots of flavor.
When you cook meat with the bone in, you gain additional health benefits and flavor that is transferred to the meat during the cooking process.
The added benefit of cooking meat with bones is that you can stock pile them for a rainy day bone broth.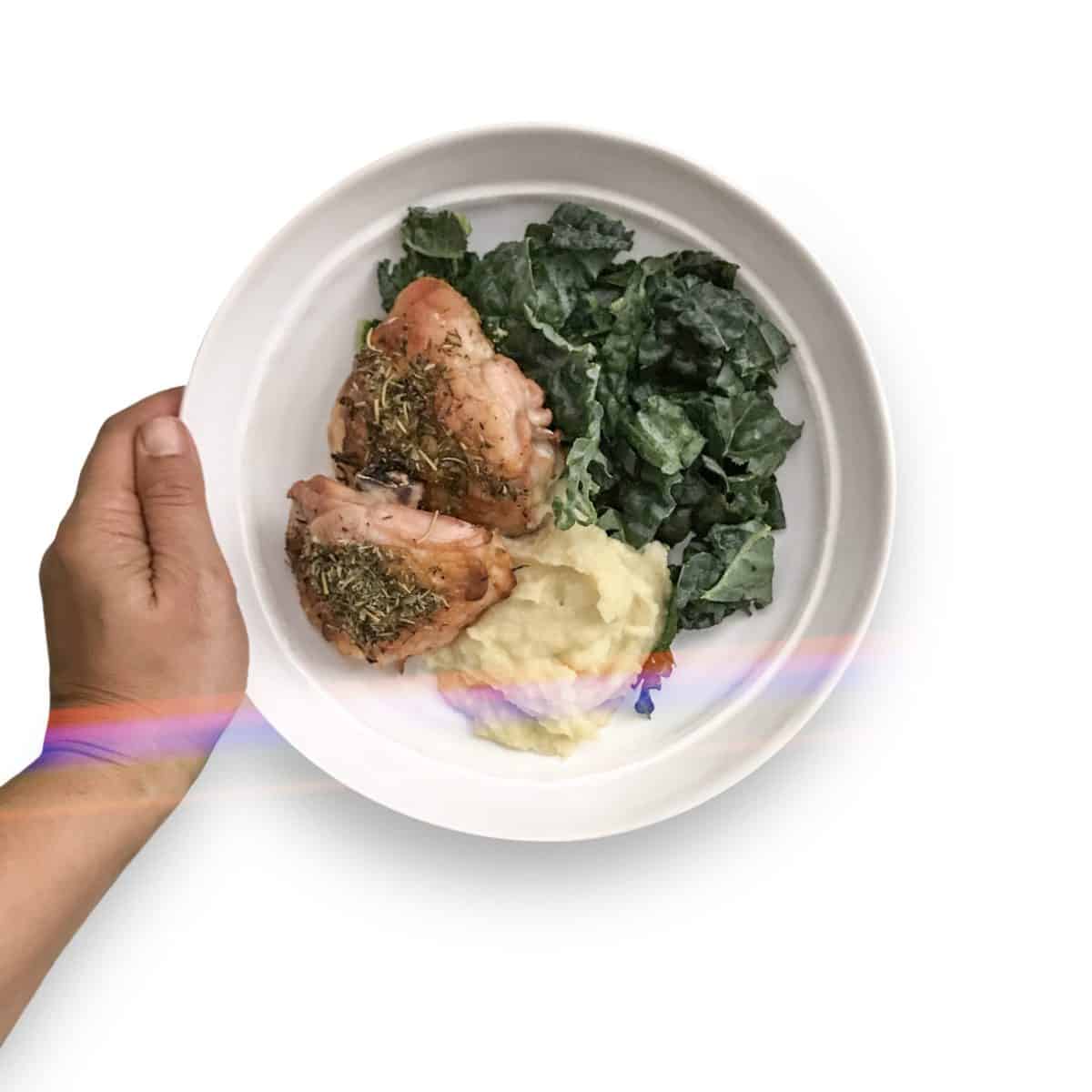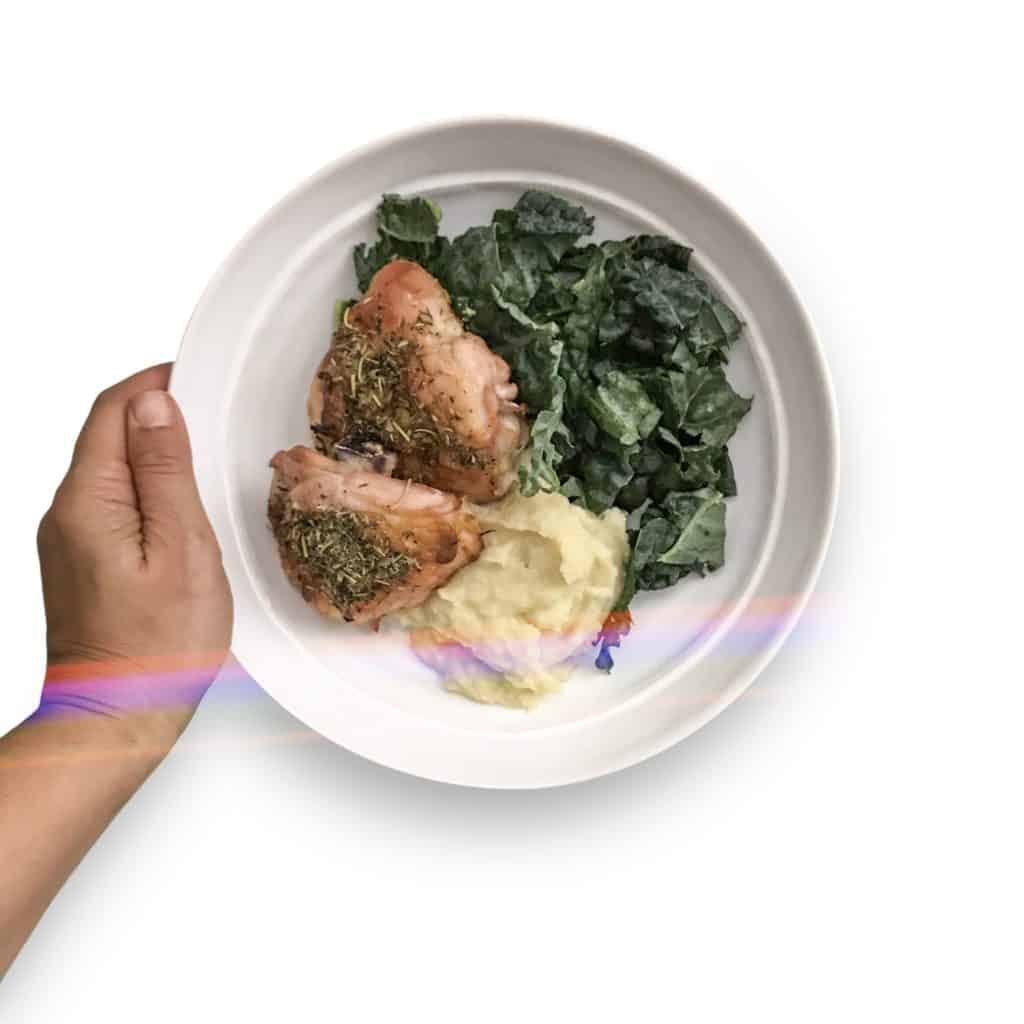 SAVE YOUR CHICKEN BONES FOR BONE BROTH
Simply wash of the bones after you've enjoyed your chicken thighs. Pat the bones dry. Place in a freezer Ziploc bag or secured container and place in the freezer for up to 6 months.
Once your freezer size one-gallon plastic bag is full of bones, your ready to make a batch of broth. A one-gallon freezer bag of bones equals two chicken carcasses, the amount you need to do a proper pot of bone broth.
COOKING WITH HERBS DE PROVENCE
This herb blend originates from the South of France. There are many different herbs and spices that collectively can be referred to herbs de Provence, but the basic recipe includes basil, fennel, marjoram, parsley, rosemary, tarragon, and thyme.
You may see recipes that include lavender, crude bay leaves, savory, chervil, sage, oregano, and mint. With this in mind, be sure to read the ingredients of the blend you purchased, and keep trying different versions of this mixture until you find one you like.
When you combine herbs de Provence with the flavor of dijon mustard you get much more depth. You can taste the herbs and sweet Dijon mustard whether enjoying this dish hot or cold. It makes for great chicken leftovers you can enjoy on their own or in a salad.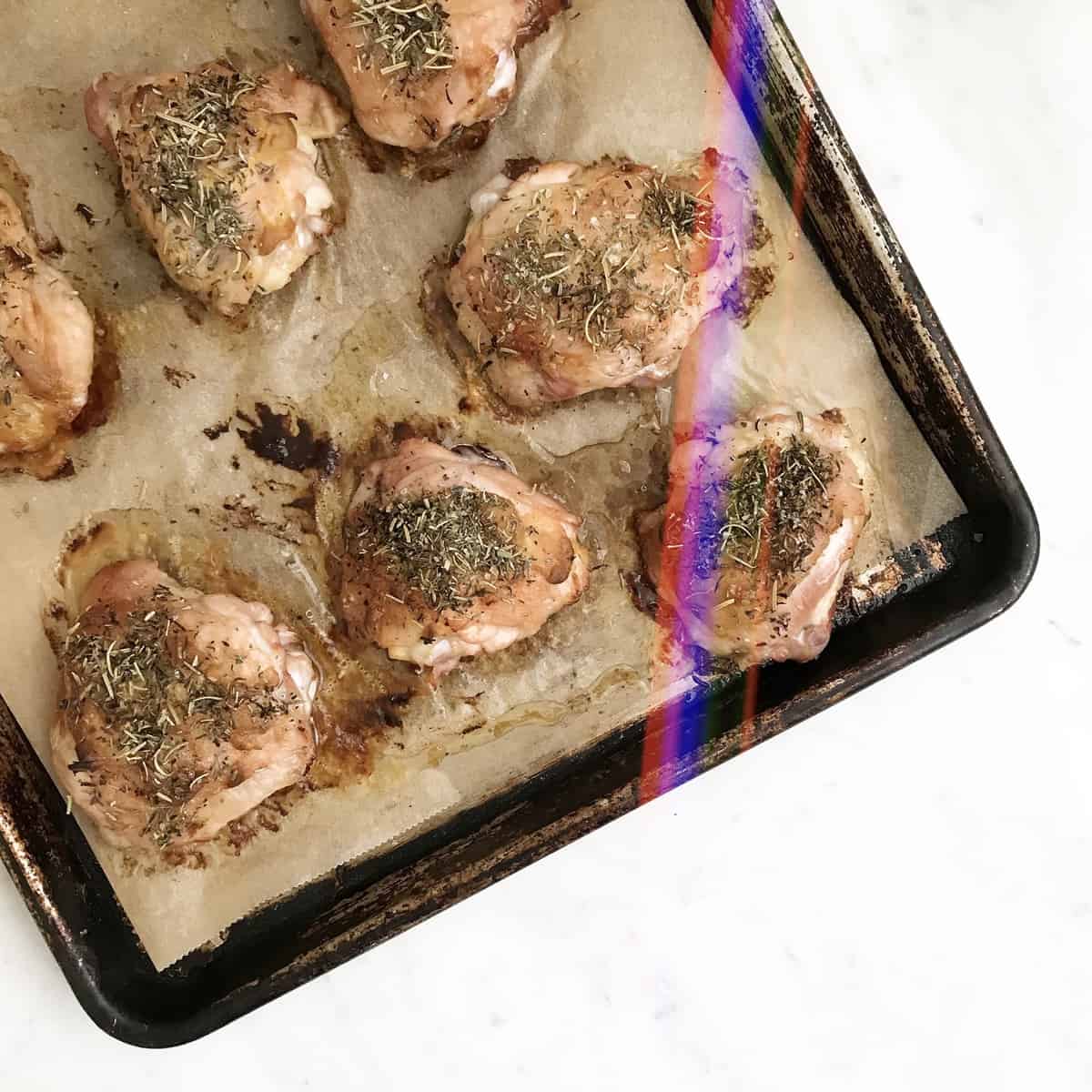 HOW TO CHOOSE DIJON MUSTARD
When choosing Dijon mustard or grain mustard, be sure to read the ingredients. Avoid mustards that use sugar or citric acid.
I like Mustard & Co. Whole Foods Market, Mother's Market and Erewhon sell brands that don't have sugar.
WHAT IS CONVECTION SETTING
This is a setting on most new models of luxury brand ovens. How is it different from bake mode? A fan in the back of the oven rotates the hot air. This allows for more browning.
The result is that most food cooks faster, gets more browning, and in this case, more crispy skin.
HOW TO GET YOUR CHICKEN THIGHS EXTRA CRISPY
Want to take your chicken thighs a step further and get them extra crispy? Bake them on a traditional baking cooling rack like this one.
This way the hot air will rotate around the chicken, the juices and fat will drip bellow, and you'll get more crispy, flavorful chicken. You can place your chopped vegetables below and have them roasting while you cook your chicken thighs.
CHEF TIPS
Remember, when making this dish (and with everything you cook) your ingredients matter. If you are using herbs de Provence your aunt bought you five years ago when she was in France, throw them away. They've lost their flavor.
Herbs and spices should be used within one year of purchase for the best flavor and quality. I like the Frontier Co-Op brand Herbes de Provence which you can find at Whole Foods Market.
Please choose the best quality chicken you have access to and that works within your budget. For this dish I use a Jidori chicken thighs I purchase at The Butchery in Newport Beach, California.
IF YOU LIKE THIS RECIPE, TRY THIS DISH PAIRED WITH THE FOLLOWING
If you make this recipe, please let me know. Bookmark this recipe and leave a comment below or take a photo and tag me on Instagram with #starseedkitchen #highvibrationfoods. 
Print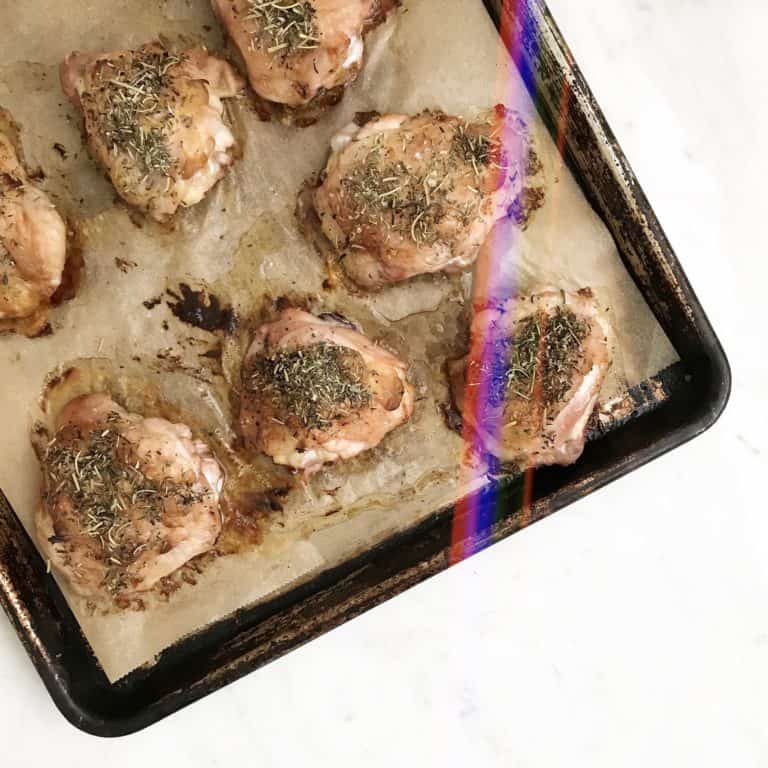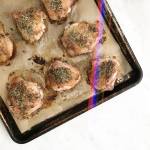 Baked Chicken Thighs with Herbs de Provence
Author:

Chef Whitney Aronoff

Prep Time:

10 minutes

Cook Time:

35 minutes

Total Time:

45 minutes

Yield:

4

–

5

servings

1

x

Category:

Chicken

Method:

Bake

Cuisine:

Healthy
---
Description
If you like chicken wings, but always wish there was more meat, then the chicken thigh is for you.
---
10 Chicken Thighs
1 Tablespoon, 1 teaspoon Dijon Mustard (or grain mustard if preferred)
3 T Herbs de Provence

1 tsp

Sea salt
---
Instructions
1. Preheat oven to 400 degrees. If you have convection setting on your oven, you'll want to turn it on. This will help your skin get extra crisp.
2. Pat dry the chicken thighs with a paper towels. Place parchment on baking sheet. If you have a baking cooling rack, you'll want to place it on the baking sheet. This way the hot air will rotate around the chicken, the juices and fat will drip bellow, and you'll get more crispy, flavorful chicken. 
3. Rub a ½ teaspoon of Dijon mustard (or grain mustard if preferred), on each side of the chicken, then sprinkle generously with herbs de Provence and sea salt. 
4. Bake for 35-40 minutes. Remove from oven and let cool for 5-10 minutes before serving.
---
Notes
If you want your chicken thighs extra crispy then bake them on a cooling rack on top of the baking sheet. This way the hot air rotates around the chicken, and excess fat drips off. 
Keywords: baked chicken, roast chicken, baked chicken thighs, roasted chicken thighs, how to use herbs de provence
Thank you for reading. Follow me on Instagram, Facebook, and Pinterest for more Starseed Kitchen inspiration. 
ABOUT THE AUTHOR
Hi, I'm Whitney Aronoff, a Holistic Chef based in Laguna Beach, California. I graduated from Southern Methodist University with a degree in Communications, and went on to the health supportive culinary school, The Natural Gourmet Institute, in New York City. I work as a personal chef and teach cooking classes, with a focus on healthy, whole foods cooking.

My goal is to help people feel their best by sharing the delicious, healthy recipes I prepare weekly for my clients. I want you to have the energy to live your best life and fulfil your dreams.
As we become more conscious and make more quality food choices, our body, mind, soul and the planet benefits.