White Cheddar Mac & Cheese with Green Chard
You will love this macaroni and cheese recipe with green chard. This dish is a staple for my custom meal prep clients who love the hidden vegetables in a healthy cheese sauce.
This healthy mac and cheese recipe uses brown rice or quinoa pasta, organic milk, white cheddar cheese, and cassava flour to keep it gluten free. The addition of fresh, leafy green chard makes this dish a complete meal.
This recipe is great for those following a Gluten Free, Paleo, Lectin Free or Vegetarian diet.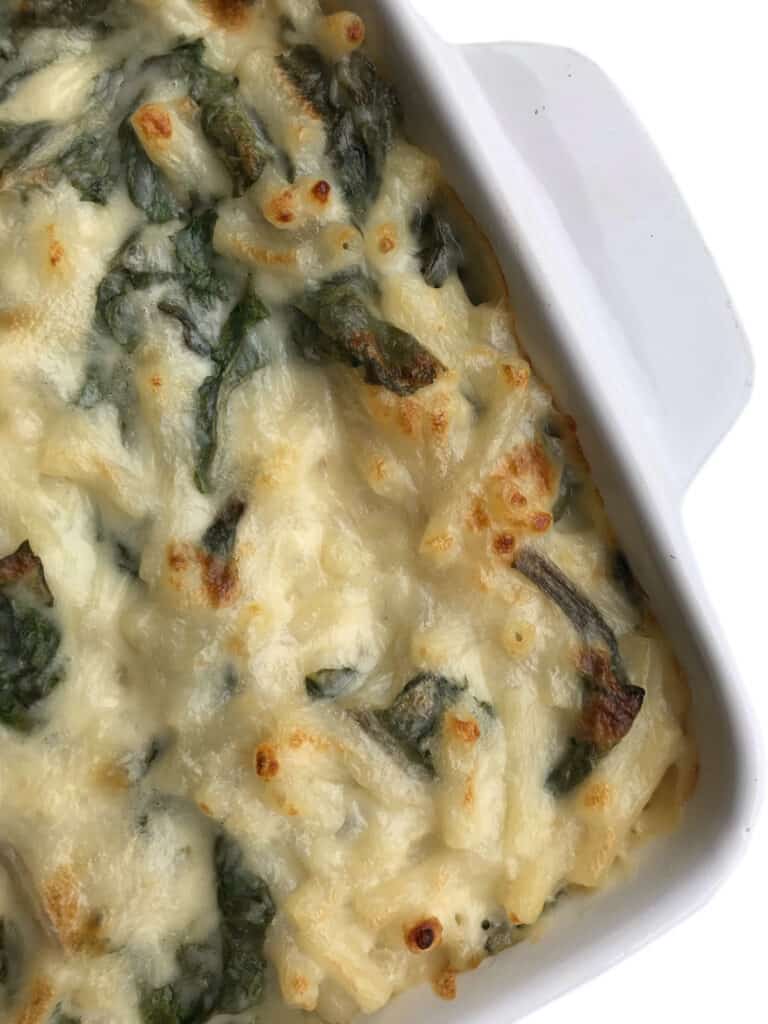 BAKED WHITE CHEDDAR MAC & CHEESE
By baking the macaroni and cheese you get a nice crispy crust without adding breadcrumbs. If you have convection setting on your oven, turn it on while baking for more browning on top.
Still want a more crispy, cheesy, bubbling brown crust on top? Place under the broiler for 1-4 minutes depending on your oven settings. Watch closely so it doesn't burn.
HOW TO MAKE A MAC & CHEESE RECIPE GLUTEN FREE
This recipe works with traditional pasta and all gluten free varieties. I prefer using a quinoa pasta by Andean Dream. Any shape works.
You can use a gluten free blend, brown rice, lentil, or chickpea pasta. When using these alternative pastas be sure to undercook the pasta by 3 minutes from the directed time on the packaging. Otherwise it will turn to mush when you mix it with the cheese sauce.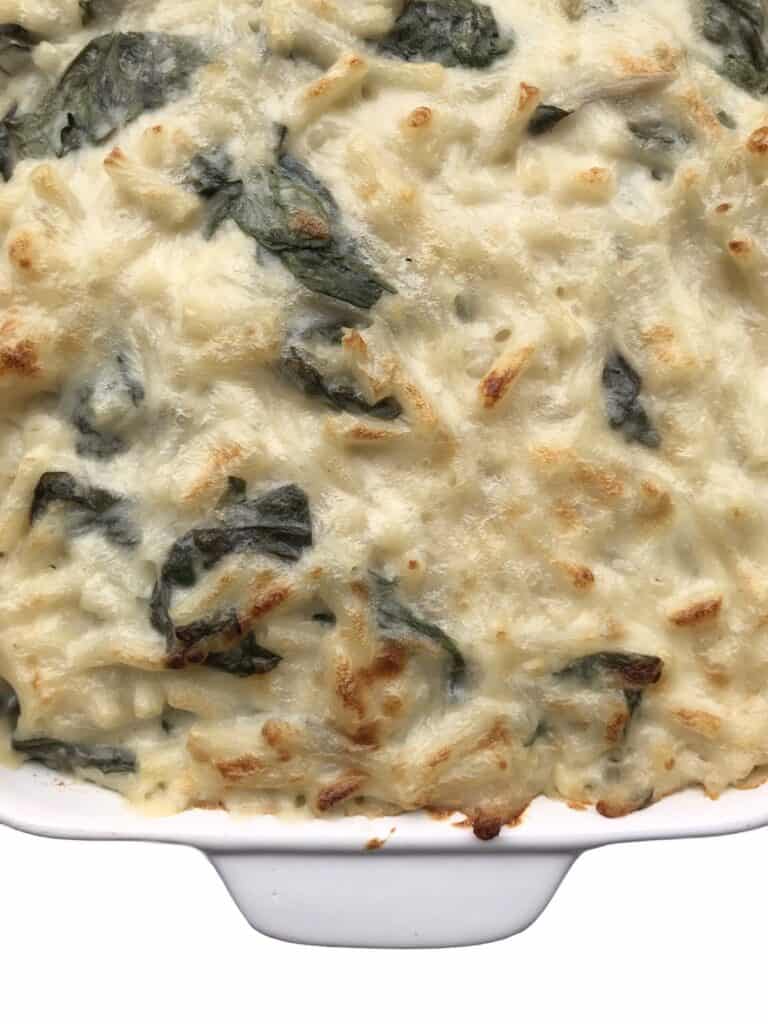 HOW TO MAKE MAC & CHEESE HEALTHY
These are the exact ingredients I use when I prepare this recipe for my clients. I share this because I want you to be aware of all the ways you can make this dish your own.
The ingredients you use will adjust the flavor of the dish and the health quality. Choose the best ingredients you have access to. I use the following ingredients when I prepare mac and cheese with vegetables for my clients.
Andean Dream Organic Quinoa Pasta, any shape
Fresh green chard
Organic unsalted butter
Organic whole milk
Organic Pastures organic raw shredded cheddar cheese
Sea salt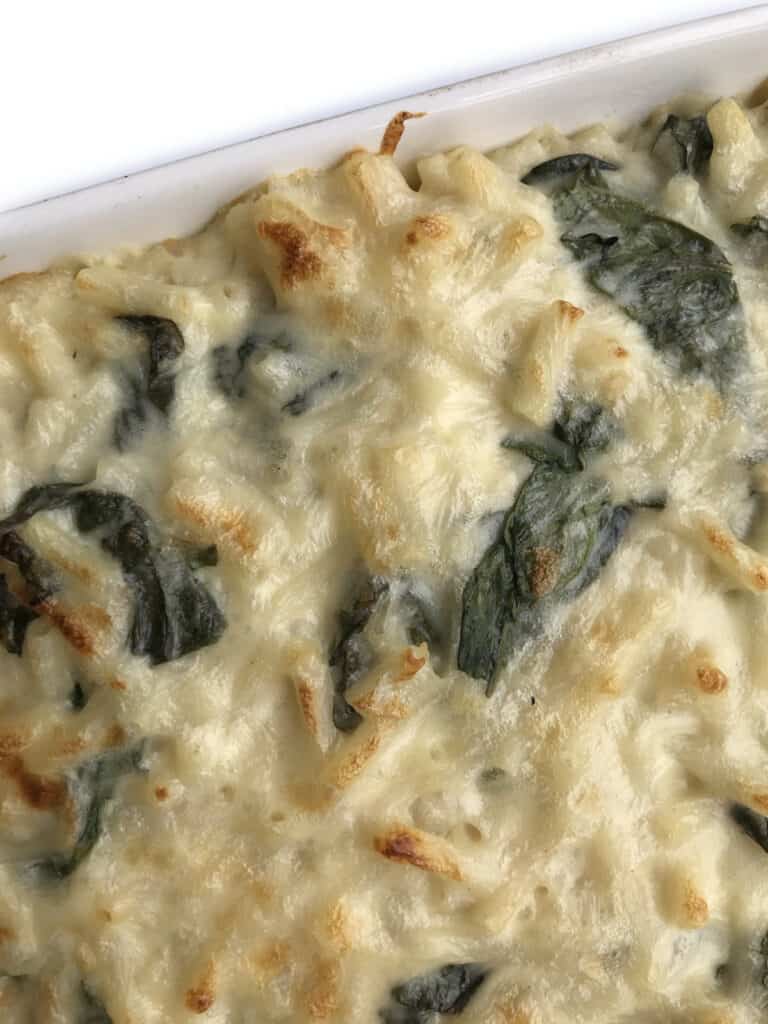 MAC & CHEESE WITH HIDDEN VEGGIES
I love the texture and flavor the chard adds to this recipe. But there are many vegetables that work well with baked pasta in a white cheddar cheese sauce.
The following would all work as a substitute for chard in these recipe. Be sure to steam or blanch the vegetable before adding to the cheese sauce and pasta.
Cauliflower florets
Broccoli florets
Broccoli raab
Spinach
Collard greens
Kale
Fresh peas
Green beans
Okra
Zucchini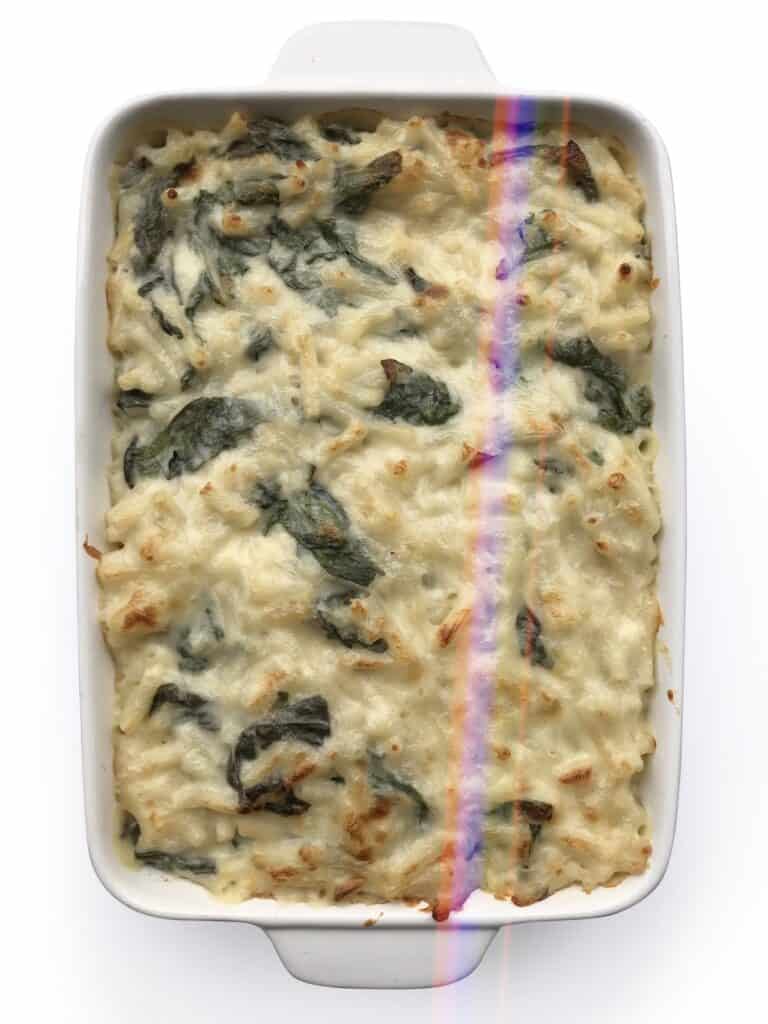 CHEF TIP FOR COOKING GLUTEN FREE PASTA
If you are using brown rice pasta, lentil or garbanzo bean pasta for this dish, you must under cook the pasta. Otherwise you will get mush when you blend the pasta with the cheese sauce.
I know from experience. Do not cook the pasta according to directions when making it for mac and cheese.
Cook the pasta 3 minutes under the recommended time on the packaging. When you drain your alternative pasta, it will keep cooking as it sits and cools. It will keep cooking when you mix it with the cheese sauce. It will keep cooking when you bake it in the oven.
Don't worry, your pasta will not turn out under cooked. Trust me. But this action is critical if you are not using traditional wheat pasta.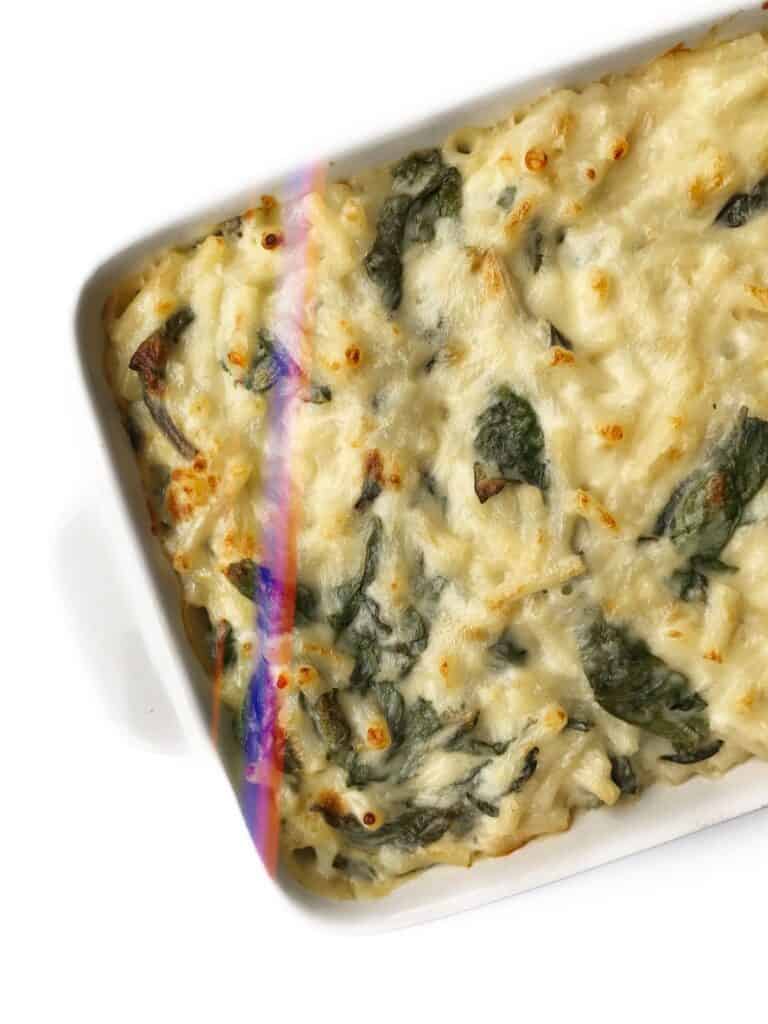 CHEF TIP
If using an alternative pasta, such as gluten free, quinoa, brown rice or lentil, then undercook the pasta by 3 minutes. Otherwise it will turn to mush when you mix it with the cheese sauce.
You can use the whole bunch of chard, stem and leaves. Slice the stem into 1-inch pieces and blanch with the greens. If you don't like the stem, feel free to de-stem the chard before blanching.
Remember the quality of your ingredients improves the taste, flavor and satisfaction of the dish. Don't skimp on the quality of pasta, butter, whole milk and white cheddar cheese.
IF YOU LIKE THIS RECIPE, TRY THE FOLLOWING
Print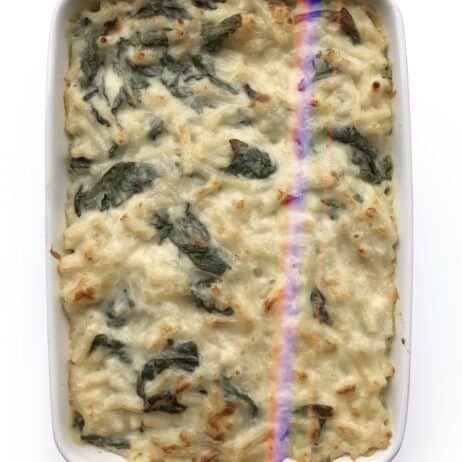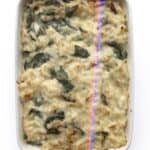 Macaroni & Cheese with Vegetables
Author:

Chef Whitney Aronoff

Prep Time:

20 minutes

Cook Time:

15 minutes

Total Time:

45 minutes

Yield:

6

–

8

servings

1

x

Category:

Dinner

Method:

Stove Top

Cuisine:

American

Diet:

Vegetarian
---
Description
Healthy white cheddar mac and cheese with green chard for hidden veggies. Made with cassava flour for a gluten free cheese sauce. Works with any type of pasta, from traditional durum wheat to quinoa pasta.
---
For the Pasta
5 cups

of gluten free, brown rice or quinoa pasta (two

8 oz

boxes)

2 teaspoons

sea salt
Organic unsalted butter, for the dish
For the Cheese Sauce
8 Tbsp

(

1

stick) organic unsalted butter

½ cup

organic cassava flour

1 ½ tsp

sea salt

4 cups

organic whole milk

4 cups

organic grated sharp white cheddar

2

bunches of green chard, chopped and blanched in salted water
---
Instructions
Preheat oven to 350 degrees. Butter a traditional 15" x 10" rectangular casserole dish or similar baking dish.
Follow cooking directions for the pasta shells according to the brand you purchase. If using gluten free, brown rice or quinoa pasta, under cook by 3 minutes.
While the pasta is cooking, chop and blanch the chard in salty water.
Prepare the cheese sauce by melting 1 stick of butter in a medium sauce pot. Using spatula, stir in the flour and salt, over medium heat. Stir till flour is fully incorporated and let cook for about 3 minutes, letting the flour and butter slightly brown.
Slowly whisk in 2 cups of milk till fully incorporated, then the remaining 2 cups. Bring to a simmer, stirring constantly, until the cheese sauce thickens, about 5 minutes. Using a spatula, stir in the cheese until it is melted and turn of the heat. Add the drained pasta to the cheese sauce and mix thoroughly. Then add the chard and stir till fully incorporated.
Bake for 15 minutes. To brown the cheese for a crispy top, place under the broiler for 1-4 minutes depending on your oven settings.
---
Keywords: mac and cheese with vegetables, macaroni and cheese with vegetables, gluten free mac and cheese, mac and cheese with cassava flour, white cheddar macaroni and cheese, baked mac and cheese recipe, macaroni and cheese with chard, macaroni and cheese with spinach
Thank you for reading. Follow me on Instagram, Facebook, and Pinterest for more Starseed Kitchen inspiration. 
ABOUT THE AUTHOR
Hi, I'm Whitney Aronoff, a Holistic Chef based in Laguna Beach, California. I graduated from Southern Methodist University with a degree in Communications, and went on to the health supportive culinary school, The Natural Gourmet Institute, in New York City. I work as a personal chef and teach cooking classes, with a focus on healthy, whole foods cooking.

My goal is to help people feel their best by sharing the delicious, healthy recipes I prepare weekly for my clients. I want you to have the energy to live your best life and fulfil your dreams.
As we become more conscious and make more quality food choices, our body, mind, soul and the planet benefits.