Magic Romesco Sauce
This is my healthy take on the traditional Spanish romesco sauce recipe. Also known as Roasted Red Bell Pepper Sauce. Spain in known for paprika, and this sauce shows why.
Smoked paprika brings a level of depth to this sauce you didn't know possible. If you are a garlic lover as well, this sauce is for you. 
WHAT IS ROMESCO
Technically, romesco sauce is a bell pepper and tomato-based sauce that originated from Tarragona, Catalonia. It is a coastal town, just south of Barcelona.
BENEFITS OF RED BELL PEPPERS
These days, bell peppers aren't embraced as often as they use to be because they are a part of the night shade family. It is suggested by some doctors that people suffering from arthritic conditions or chronic inflammation should avoid night shades.
However, these peppers that originated in the Americas have many health benefits, as long as you prepare them properly (peeling and de-seeding). Here are just some of those medicinal health benefits:
Supports the stomach, kidney and blood circulation
Help treat cold conditions
Bell peppers contain zeaxanthin, which helps prevents cataracts
A nutrient-dense vegetable, they contain high amounts of vitamin C, beta-carotene, vitamin K, thiamine, folic acid and vitamin B
For those following an Ayurvedic lifestyle, bell peppers reduce pitta and kapha
HOW TO USE THIS SAUCE
Once you try it you think of even more ways to enjoy this sauce with the food you are already preparing.
This sauce is Vegan, Vegetarian, Gluten-Free, Paleo and can be made Lectin-Free.
Here is how I like to use it:
As a dip with vegetable crudité
As a spread in a grilled vegetable sandwich
As a spread on a classic grilled cheese
With eggs
Over blanched or steamed broccoli
With blanched or steam kale, chard, or any leaf green
On top of a salad
With brown rice
A garnish on chicken, turkey or fish
With chicken and arugula for an elevated Chicken Paillard
As a substitute for mayonnaise on a burger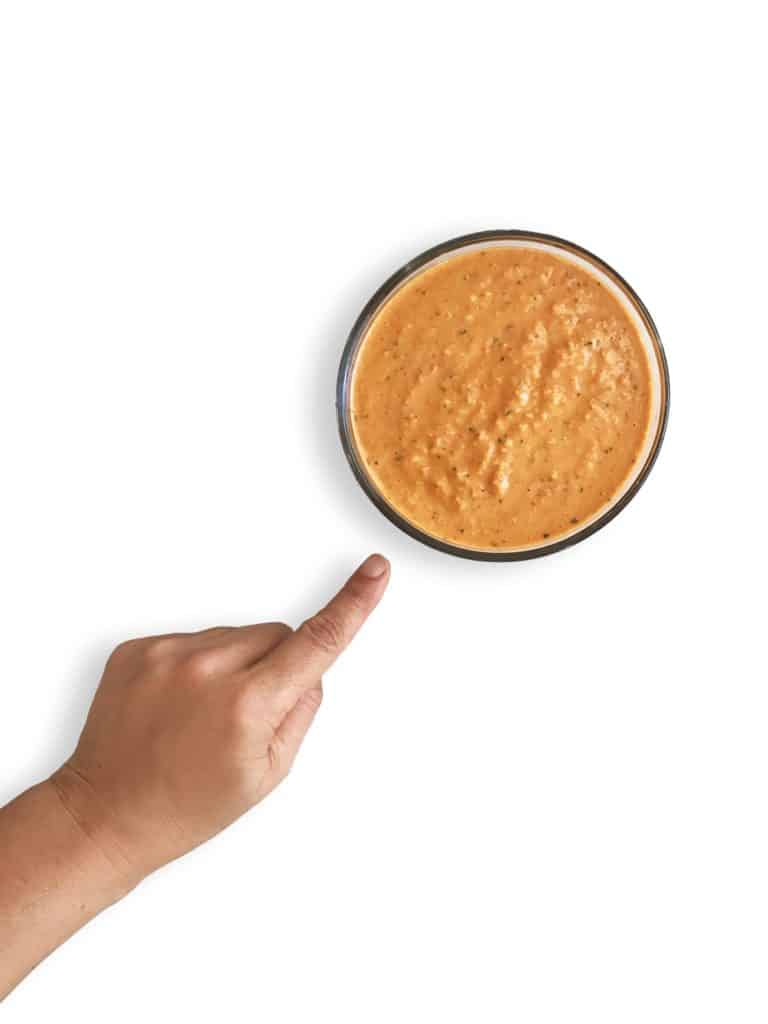 CHEF TIP
You do not need to roast, peel and de-seed your bell peppers every time you make this sauce. I know that adds an extra hour to preparing this recipe.
You can use roasted bell peppers from a jar. Make sure to buy organic, and from a glass jar.
When making this recipe using bell peppers from a jar, use four peppers as they tend to be smaller. No need to increase the amount of any of the other ingredients (unless you really love garlic). 
CAN I MAKE THIS SAUCE LECTIN-FREE
Yes, you can make this sauce lectin-free. Because you are using peeled and de-seeded roasted red bell peppers, it it lectin-free.
I noted that the tomato puree is optional. If tomatoes irritate your digestive system, or you are avoiding lectins, then don't use the tomato puree. Because this recipe uses bell pepper that are peeled and de-seeded you have removed the lectins. 
When using the tomato paste, please reach for organic and one that is in a glass jar. I like Bionaturae Organic Tomato Paste which you can find at Thrive Market or at Whole Foods Market. If you look closely at your local natural foods store, you'll find a tomato paste in glass on the shelves.
The glass allows you to store what you don't use in the fridge for a longer period of time, and you avoid all the hormone disruptor chemicals that are found in the lining of cans.
IF YOU LIKE THIS RECIPE TRY THE FOLLOWING
Print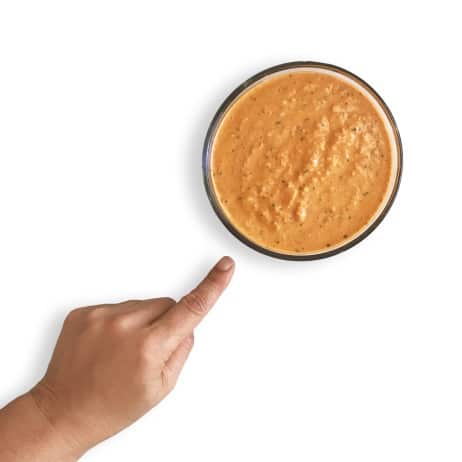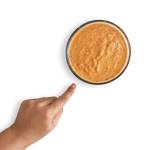 Magic Romesco Sauce
Author:

Chef Whitney Aronoff

Prep Time:

10

Cook Time:

10

Total Time:

20

Yield:

2 cups

1

x

Category:

Sauce

Method:

Food Processor

Cuisine:

Healthy
---
Description
A healthy take on the traditional, Spanish, roasted red bell pepper sauce. Instead of bread crumbs, this recipe used toasted sliced almonds. It's therefore naturally gluten-free and vegan.
---
2 large roasted red bell peppers, peeled and de-seeded
2 garlic cloves
1 cup slivered almonds, toasted
½ cup tomato puree (optional)
¼ cup flat-leaf parsley
2 tablespoons apple cider vinegar
2 teaspoons smoked paprika
1/8  teaspoon of cayenne pepper
½ cup extra-virgin olive oil

¼ teaspoon

sea salt and black pepper
---
Instructions
Pulse garlic in a food processor until minced. Add bell peppers and parsley and pulse till finely chopped. 
Add remaining ingredients of slivered almonds, tomato puree (optional), apple cider vinegar, smoked paprika, cayenne pepper, sea salt and black pepper. With motor running, slowly add oil. Process until smooth. Cover and chill. Will hold in an air tight container in the refrigerator for one week. 
---
Notes
You can use roasted bell peppers from a jar. Make sure to buy organic, and from a glass jar.
You do not need to roast, peel and de-seed your bell peppers every time you make this sauce. I know that adds an extra hour to preparing this recipe.
Thank you for reading. Follow me on Instagram, Facebook, and Pinterest for more Starseed Kitchen inspiration. 
ABOUT THE AUTHOR
Hi, I'm Whitney Aronoff, a Holistic Chef based in Laguna Beach, California. I graduated from Southern Methodist University with a degree in Communications, and went on to the health supportive culinary school, The Natural Gourmet Institute, in New York City. I work as a personal chef and teach cooking classes, with a focus on healthy, whole foods cooking.

My goal is to help people feel their best by sharing the delicious, healthy recipes I prepare weekly for my clients. I want you to have the energy to live your best life and fulfil your dreams.
As we become more conscious and make more quality food choices, our body, mind, soul and the planet benefits.