Herbs de Provence Chicken
This is my favorite Sunday roast chicken recipe. The flavor has so much depth. You can taste the herbs and sweet dijon mustard whether enjoying this dish hot or cold. My meal prep clients have me make this recipe regularly.
It makes for great shredded chicken leftovers you can use in soup or salad. Enjoy it for dinner with roasted vegetables and healthy mashed potatoes like my purple mashed sweet potatoes.
But the best party is the crispy skin cooked the healthy way for even the pickiest Paleo eaters. I share my secret below.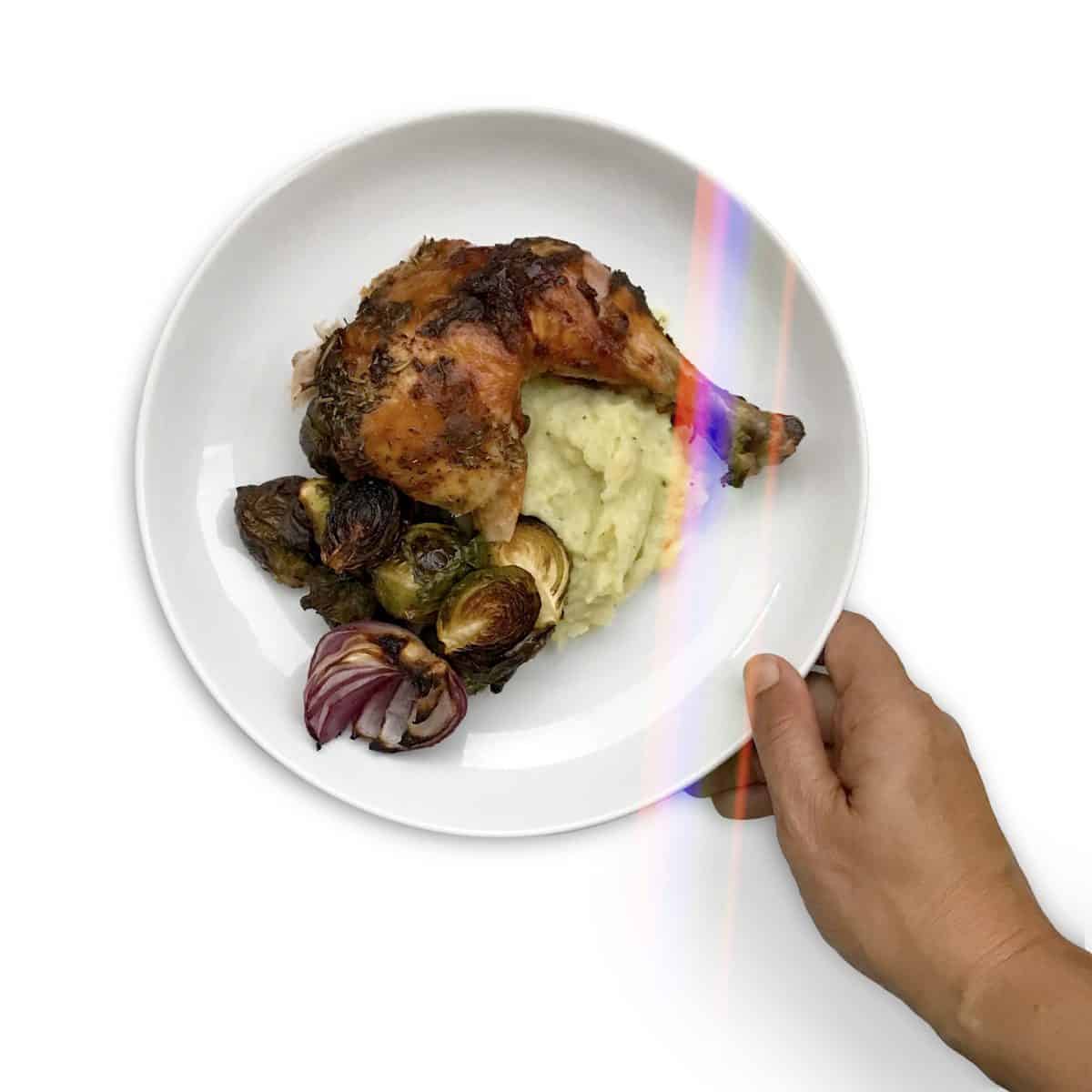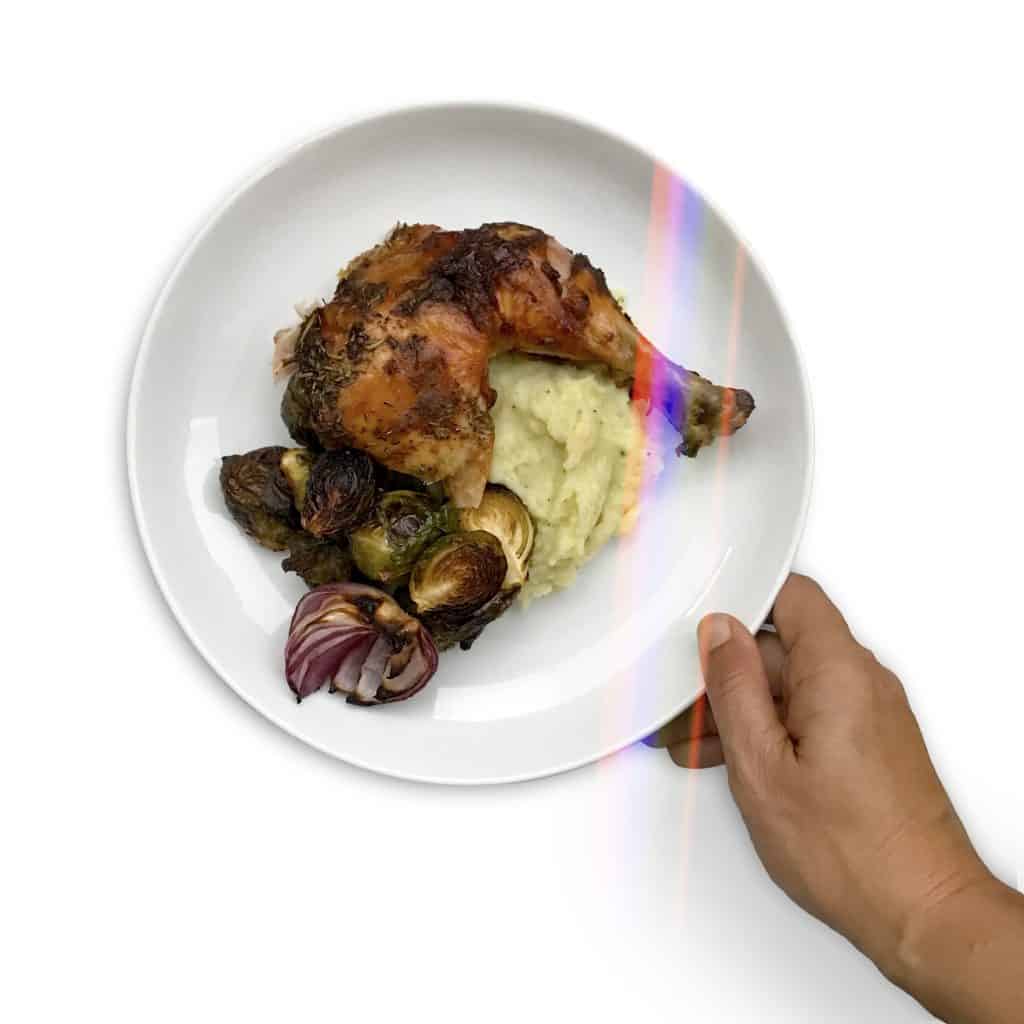 WHAT IS CONVECTION SETTING?
What is convection setting? This is a setting on most new models of luxury brand ovens. How is it different from bake mode? A fan in the back of the oven rotates the hot air.
This allows for more browning. The result is that most food cooks faster, gets more brown, and in this case, more crispy skin.
Heard of an air fryer? Those countertop kitchen devices are just using convection oven technology. It's the same thing. No need to purchase one of those products if you have the convection setting on your oven at home.
WHAT ARE HERBS DE PROVENCE?
Herbs de Provence is a mixture of dried herbs considered typical in the Provence region of France. Traditionally, it is an herb blend of thyme, lavender, basil, marjoram, fennel seed and rosemary. Some blends contain savory or tarragon as well.
Not all blends of this spice taste a like. The ratio of herbs are often different between the brands you purchase. You'll notice this when you look at the ingredients list next time you are shopping the spice aisle.
When buying herbs, always look for organic and non-irradiated labeling. I use Spicely and Frontier Co-op. When traveling in Europe, I always look for a local brand of the blend to purchase.
Not sure if you'll like these herbs? Buy the small box from Spicely, which contains two tablespoons. That is enough to cover one small whole chicken. That way you can try it before you commitment to a full jar.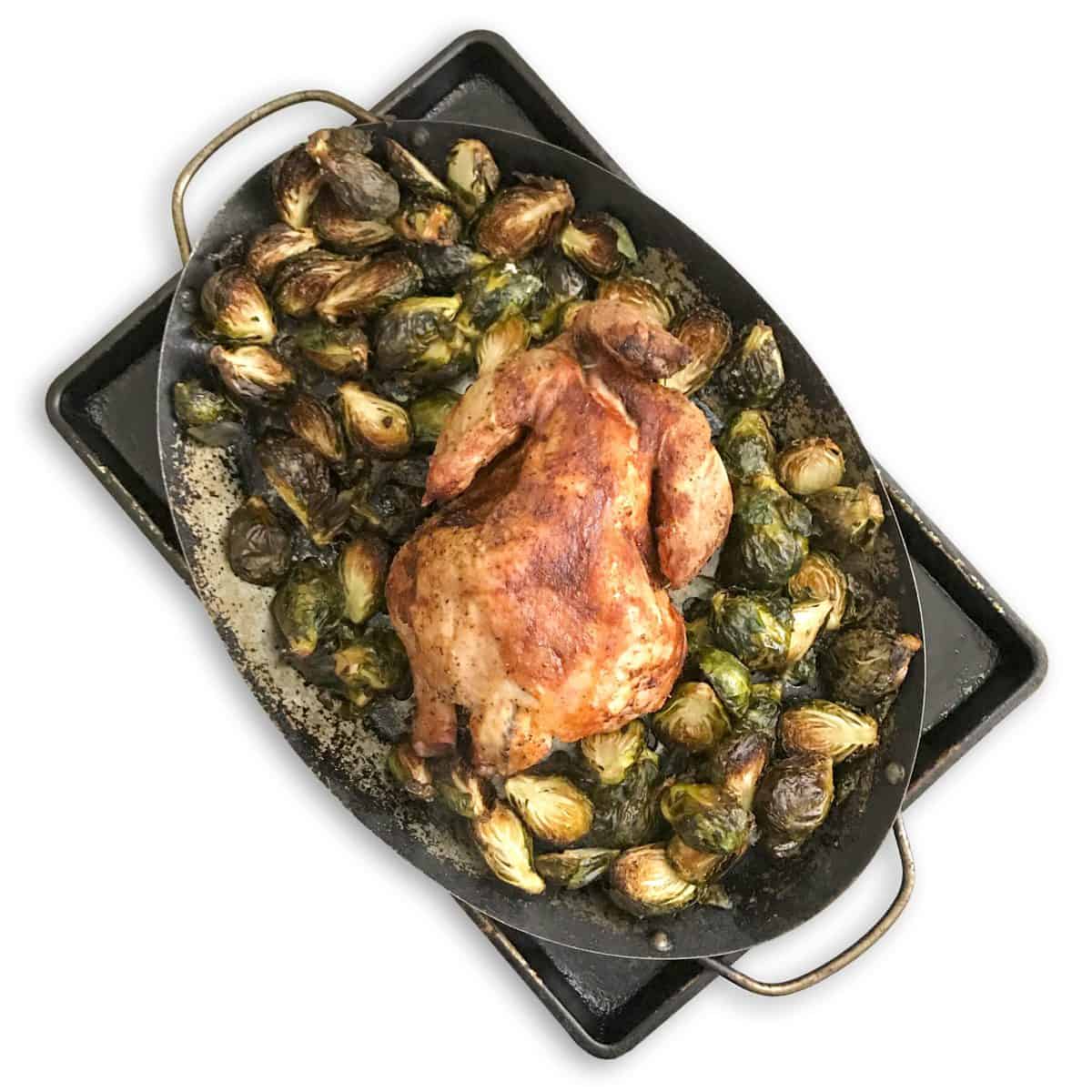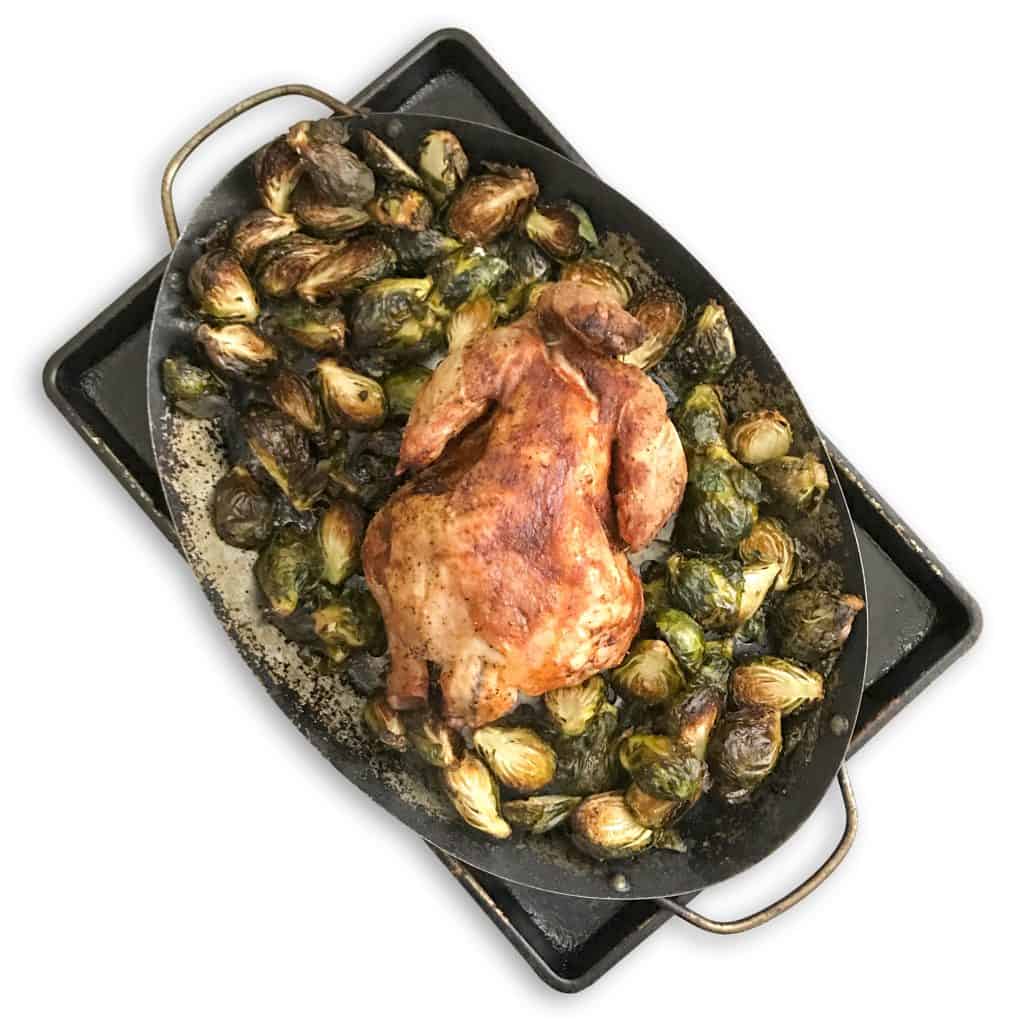 CRISPY SKINNED CHICKEN THE HEALTHY WAY
Want to take your roast chicken a step further? I like to roast my chicken sitting straight up. I use a stainless steel cup that allows it to sit up. I fill it with ½ cup of water, along with a fresh herb (such as rosemary) to infuse flavor.
I love using the High-Heat Nonstick Chicken Roaster from Williams Sonoma. It works in the oven or on the grill. I take it with me to all my clients homes when I have a roast chicken on the menu. The crispy skin results are superior to any other roasting method.
Just make sure to place the roaster on a baking sheet lined with parchment. I use the pre-cut parchment sheets from If Your Care.
HOW TO GET THAT CRISPY SKIN WITHOUT THE ROASTER
If you aren't able to use a roasting stand like the one I recommend from Willams Sonoma, no problem. When I make this whole roast crispy skinned chicken for my clients, I use this trick.
I line a baking sheet with parchment paper. I then place a cooling rack on top (such as the racks you place your cookies on to cool). Here is an example of a cooling rack you can find at all kitchen supply stores.
By baking the chicken elevated off the pan, the hot air will rotate around it, making the skin crispy. The parchment paper will make clean up much easier.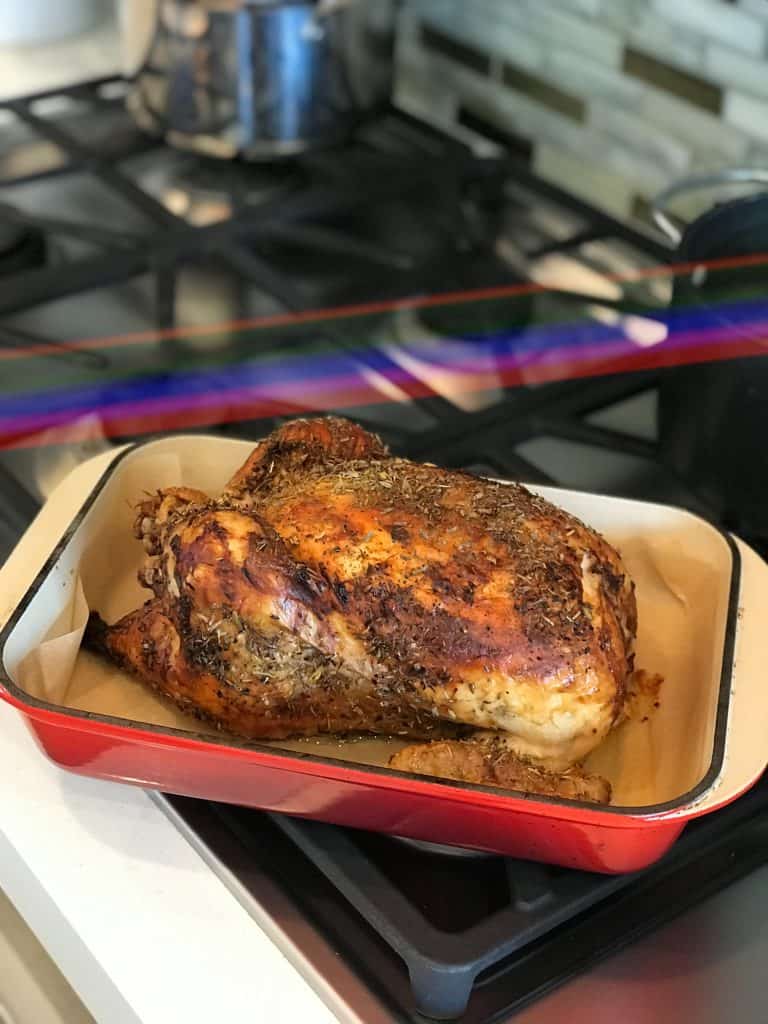 CHEF TIPS
Remember, when making this dish (and with everything you cook) your ingredients matter. If you are using herbs de provence your aunt bought you five years ago when she was in France, throw them away. They've lost their flavor. Herbs and spices should be used within one year of purchase for the best flavor and quality.
Please choose the best quality chicken you have access to and that works within your budget. For this dish I use a Jidori chicken or Mary's chicken.
If your chicken is over 3 pounds and quite large, add an additional 15 minutes to the cook time, for a total cook time of 1 1/2 hours.
For best results, season the chicken and let sit out on the counter for 30 minutes prior to cooking. This will allow for more consistent results and assure the roast cooks all the way through.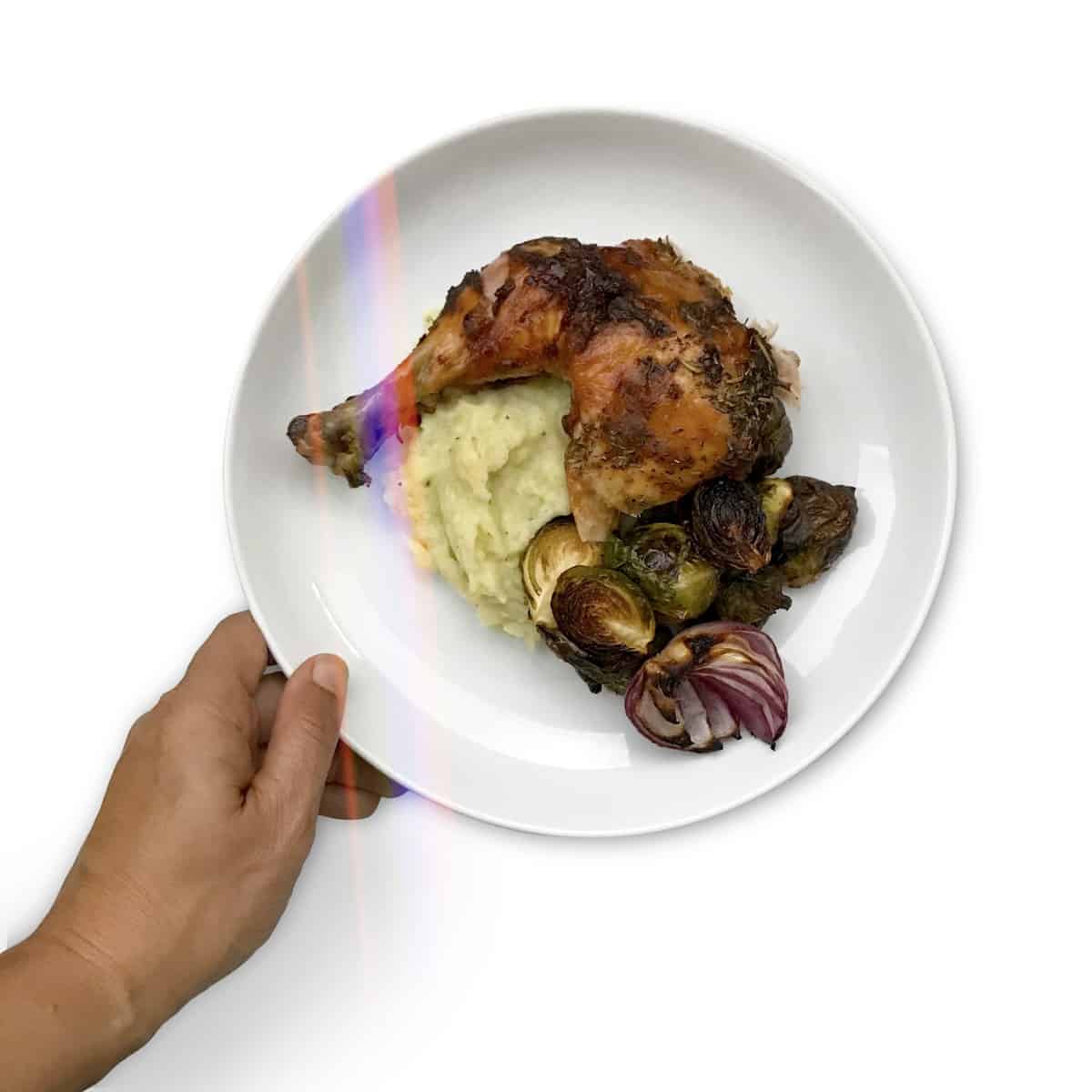 IF YOU LIKE THIS RECIPE, TRY THE FOLLOWING
If you make this recipe, please let me know. Bookmark this recipe and leave a comment below or take a photo and tag me on Instagram with #starseedkitchen #highvibrationalfood.
Print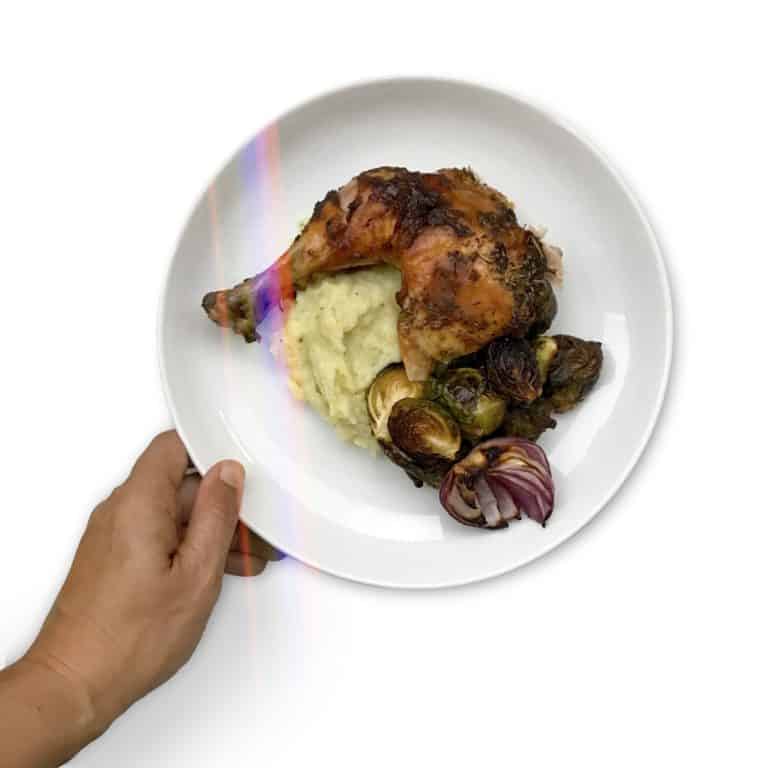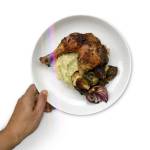 Herbs de Provence Chicken
Author:

Chef Whitney Aronoff

Prep Time:

15

Cook Time:

1 hour 15 minutes

Total Time:

1 hour 30 minutes

Yield:

4

–

6

servings

1

x

Category:

Dinner

Method:

Roasting

Cuisine:

French

Diet:

Gluten Free
---
Description
Chef tested and client approved herb rubbed whole roast chicken with crispy skin. Enjoy the rosemary, thyme and lavender flavors of Herbs de Provence. 
---
1

whole chicken

3 tablespoons

Dijon Mustard

3 tablespoons

Herbs de Provence

2

sprigs of fresh rosemary (optional)

2

–

6

sprigs of fresh thyme (optional)

1/2

lemon (optional)
---
Instructions
Preheat oven to 400 degrees. If you have convection setting on your oven, you'll want to turn it on. This will help your skin get extra crispy.
Remove chicken from wrapping, and pat dry with paper towels.
Place parchment on baking sheet. Lather your chicken on all sides with the dijon mustard. Be generous. Cover chicken with herbs de provence on all sides. Add rosemary, thyme and fresh lemon into the cavity of the bird if desired. Roast breast side up.
Bake for 1 hour and 15 minutes with convection setting. If your bird is overside or your oven temperature isn't working properly, bake for 1 hour and 30 minutes to cook through.
Remove from oven and let cool for 10 minutes before slicing and serving.
---
Notes
If your chicken is not cooking all the way through, be sure to remove it from the fridge 30 minutes before cooking.
Still having trouble getting the results you are looking for? Then the temperature of your oven may be off. Try increasing the roasting temperature by 25 degrees.
Keywords: roast chicken, whole roast chicken, healthy chicken recipes, herbs de provence, crispy skinned chicken, dijon mustard chicken, herbs de provence chicken, sunday roast, meal prep chicken, paleo chicken
Thank you for reading. Follow me on Instagram, Facebook, and Pinterest for more Starseed Kitchen inspiration.
ABOUT THE AUTHOR
Hi, I'm Whitney Aronoff, a Holistic Chef based in Laguna Beach, California. I graduated from the health supportive culinary school, The Natural Gourmet Institute, in New York City.
I work as a personal chef for Vegan, Vegetarian, Paleo & Gluten-Free clients, creating custom meal prep menus and recipes. I also teach customized cooking classes, with a focus on healthy, whole foods cooking.

My goal is to help people feel their best by sharing the delicious, healthy recipes I prepare weekly for my clients. I want you to have the energy to live your best life and fulfil your dreams. As we become more conscious and make more quality food choices, our body, mind, soul and the planet benefits. Cheers to your health.