Healthyish Baked Macaroni & Cheese
As a Personal Chef, I cook for a lot of families with little kids. Though my clients have hired me to make healthy meals, their kids want the classics. I make a lot of versions of 'mac and cheese'.
I reach for the best products I can find to make the dish 'healthyish'. Organic pasta, alternative pastas, cassava flour, gluten-free flour, organic milk, raw milk, and on and on. It's different for every client's preference and where they are on their health journey.
I make this dish mini sized and kid friendly in a 9 x 9, 2-quart baking dish. You can find a traditional square baking dish anywhere kitchen items are sold.
Don't stress if you see dimensions slightly smaller, such as 8.6 x 8.6. That works just fine too. You can also swap the square for a small rectangle that holds 2-quarts.
MAKE IT HEALTHYISH
Traditional macaroni and cheese with elbow pasta and sharp orange cheddar cheese calls for 5 key ingredients: pasta, butter, flour, milk, cheddar. Choose those ingredients wisely for flavor and health.
Kids deserve well sourced, organic, quality ingredients for their growing bodies and delicate digestive systems. Here are the key words and labels I look for when sourcing ingredients to make this dish.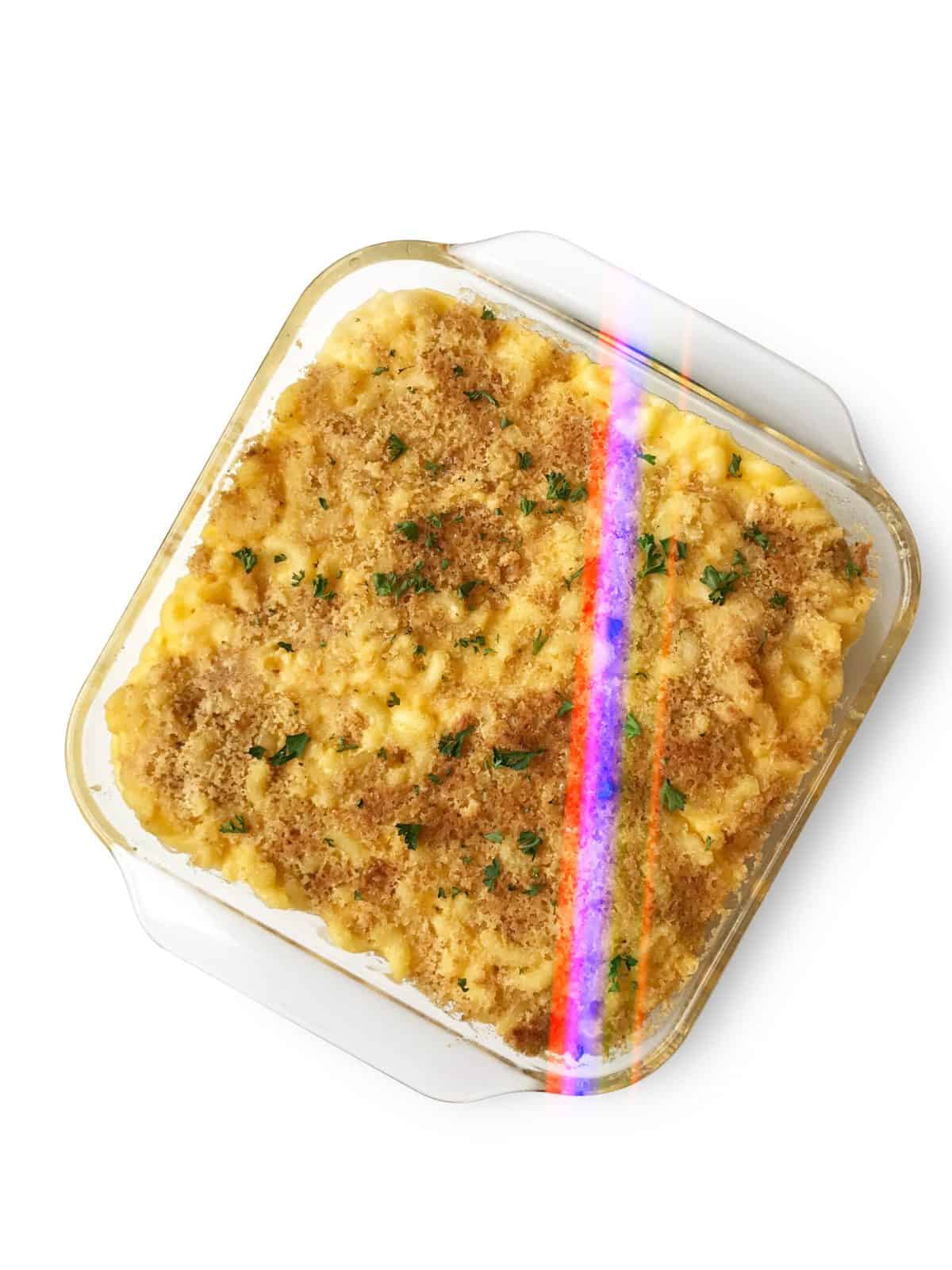 ELBOW MACARONI PASTA
I use the small elbow macaroni when I make this dish. Look for the following labels when choosing your pasta. When I buy pasta made in the USA, I make sure it is organic. When the pasta is from Italy, it does not need to be organic labeled. Their wheat has not been genetically modified.
Italian durum wheat
Organic wheat
Gluten-free pasta (I prefer the quinoa & brown rice blend)
GRASS-FINISHED BUTTER
Use a high-quality butter that will have lots of flavor and comes from cows that were fed what cows are meant to eat, grass and hay. I reach for the following brands.
Kerry Gold
Whole Foods organic butter
Goat butter
French or New Zealand butter
ORGANIC FLOUR
I prefer to work with the following flours.
Organic all-purpose flour
Cassava flour
Oat flour
Gluten-free flour that is corn free
Rice flour
WHOLE MILK
I always prefer working with whole milk. Milk, and all dairy, is a form of fat. When you remove some of the fat, you'll never get the flavor or the nourishment you are looking for from that item.
Your always more satisfied in eating a little of the full-fat food then twice the serving size of the low-fat food.
Organic whole milk
Organic whole milk, raw
Grass-fed, grass-finished whole milk
Organic goat milk
SHARP CHEDDAR
When I choose cheese, I look for similar labels as I do milk.
Organic cheddar cheese
Irish cheddar cheese
Raw cheddar cheese
100% grass-fed, grass-finished cheddar cheese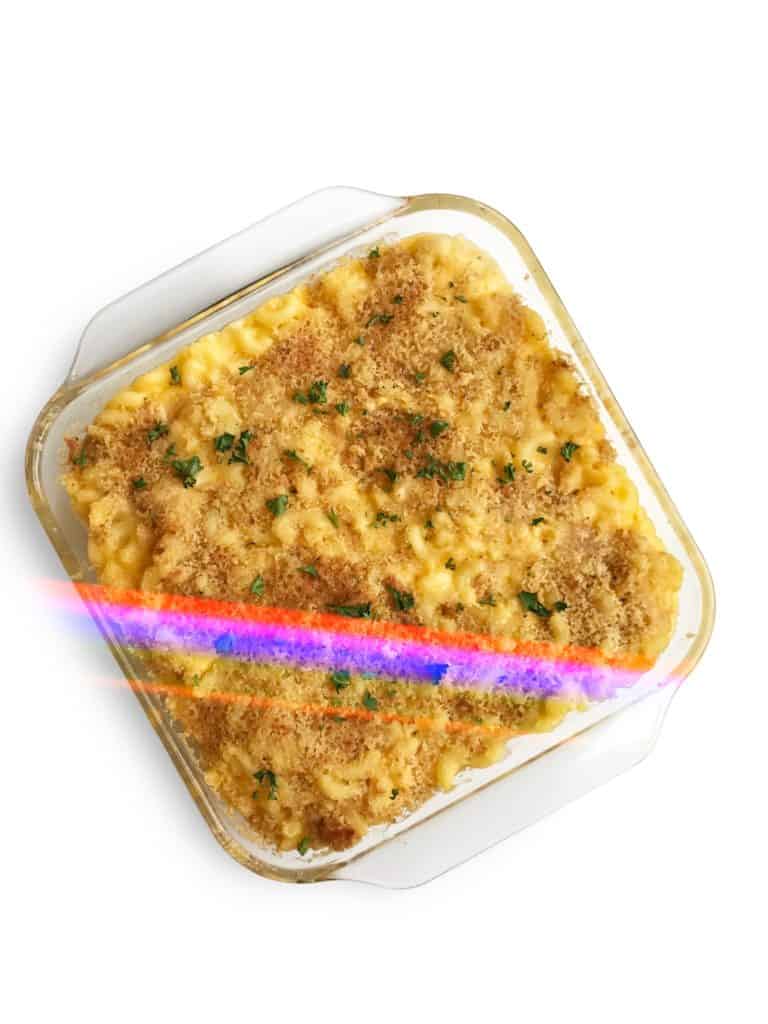 TRY THESE HEALTHY COMFORT FOOD DISHES
Sweet Potato Breakfast Bowl
My Go-To Fall Meal Prep Salad
Roasted Rainbow Carrots
Homemade Sourdough Croutons
Roasted Curry Cauliflower Salad
CHEF TIP
Substitute the pasta and flour for gluten-free options as desired.
Remember when using gluten-free or bean-based pastas to undercook the pasta by 3-4 minutes. It will keep cooking when it mixes with the cheese sauce. If you cook it per the package directions, it will turn to mush when it is stirred in with the cheese sauce.
Print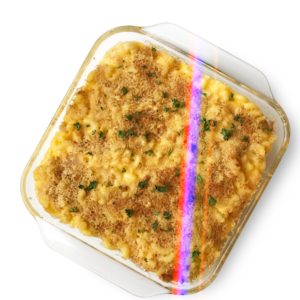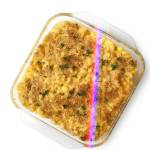 Healthyish Baked Macaroni & Cheese
Author:

Chef Whitney Aronoff

Prep Time:

25 minutes

Cook Time:

15 minutes

Total Time:

40 minutes

Yield:

4

to

6

servings

1

x

Category:

Pasta

Method:

Oven

Cuisine:

Comfort Food
---
Description
A mini sized mac and cheese for the kids or when you don't want to over indulge. Reach for the best quality organic pasta, butter, flour, milk, and cheddar for a healthyish take on a classic.
---
FOR THE MACARONI
2 ½ cups

of organic elbow macaroni pasta

2 teaspoons

sea salt
Organic unsalted butter, for the dish
FOR THE CHEESE SAUCE
4 Tbsp

(

1/2

stick) organic unsalted butter

4 Tbsp

organic all-purpose flour

1 tsp

sea salt

2 cups

organic whole milk

2 cups

organic grated sharp cheddar
FOR THE TOPPING
1/4 cup

organic breadcrumbs

2 Tbsp

organic unsalted butter, melted
---
Instructions
Preheat oven to 350 degrees. Butter a small, square 9 x 9 or similar baking dish that holds 2-quarts.
Follow cooking directions for the macaroni according to the brand you purchase. Add 2 teaspoons of salt and a drizzle of olive oil to the water while cooking the pasta. Cook the macaroni till al dente.
While the macaroni is cooking, start the cheese sauce. Melt 4 tablespoon of butter in a medium sauce pot. Using a wire whisk, stir in the flour and salt, one tablespoon at a time, over medium-low heat. Stir till flour is fully incorporated. Stir occasionally for 3 minutes till flour and butter slightly darken.
Slowly whisk in 1 cup of milk till fully incorporated, then the remaining 1 cup of milk. Bring to a simmer, stirring occasionally, until the cheese sauce thickens, about 5 minutes. Using a spatula, stir in the cheese till melted. Add the drained macaroni to the cheese sauce and mix thoroughgoingly. Transfer the macaroni and cheese to the prepared baking dish.
For the topping, melt remaining butter in a small pan. Stir in breadcrumbs. Top macaroni and cheese with buttered breadcrumbs. Bake until the dish bubbles around the edges, about 15 minutes. For a crispy brown finish, place under the broiler for 30 seconds to 2 minutes depending on your oven.
---
Notes
Substitute the pasta and flour for gluten-free options as desired.
Remember when using gluten-free or bean-based pastas to undercook the pasta by 3-4 minutes. It will keep cooking when it mixes with the cheese sauce. If you cook it per the package directions, it will turn to mush when it is stirred in with the cheese sauce.
Keywords: baked mac and cheese, baked macaroni and cheese, healthyish mac and cheese, healthyish macaroni and cheese, gluten-free mac and cheese, kid friendly mac and cheese
Thank you for reading. Follow me on Instagram, Facebook, and Pinterest for more Starseed Kitchen inspiration.
ABOUT THE AUTHOR
Hi, I'm Whitney Aronoff, a Holistic Chef based in Laguna Beach, California. I graduated from Southern Methodist University with a degree in Communications, and went on to the health supportive culinary school, The Natural Gourmet Institute, in New York City. I work as a personal chef and teach cooking classes, with a focus on healthy, whole foods cooking.
Healthyish Baked Macaroni & CheeseMy goal is to help people feel their best by sharing the delicious, healthy recipes I prepare weekly for my clients. I want you to have the energy to live your best life and fulfil your dreams.
As we become more conscious and make more quality food choices, our body, mind, soul and the planet benefits.