Halloumi Salad Recipe
A fresh and healthy vegetarian salad for meal prep with warm seared cheese.
Shaved fennel, radish, cucumber, crispy green beans, red onion, fresh herbs, roasted sunflower seeds tossed with whipped lemon vinaigrette.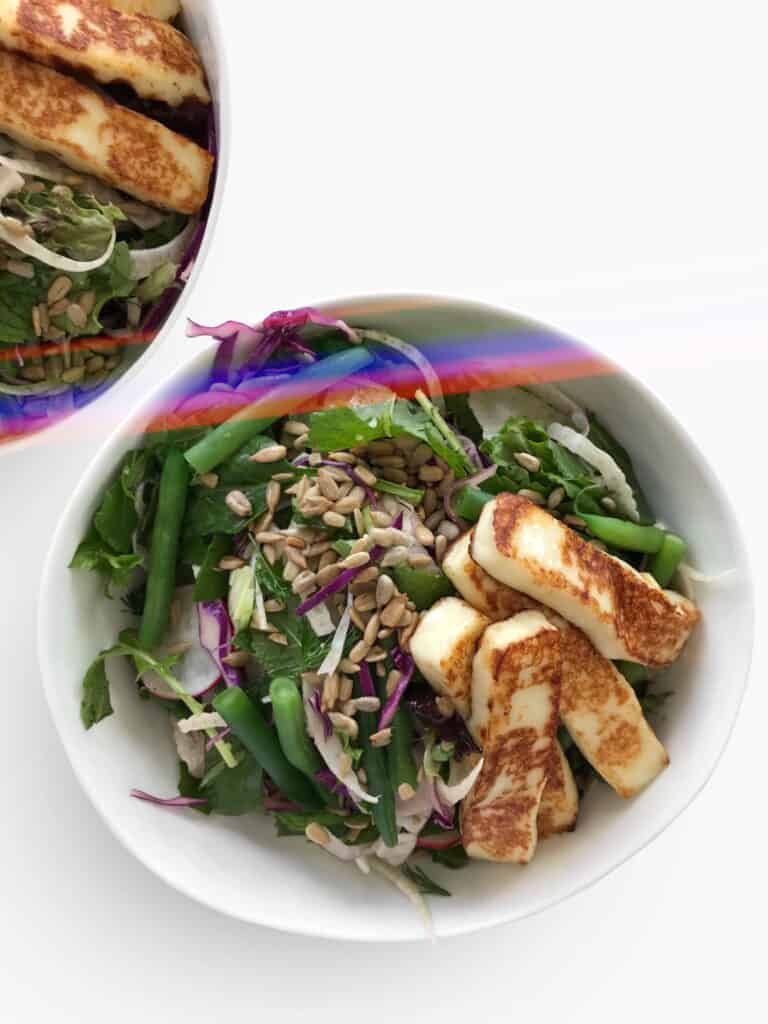 A SALAD FOR MEAL PREP
I get the most joy from cooking when working with vegetables. Before preparing any dish, even a salad, I put all my vegetables and other ingredients on the counter.
I wash, clean and dry the vegetables, and display them so I can admire their color and vibrancy as I prepare the dish. This makes it much easier to work and spreads the joy to my clients who appreciate the bounty being prepared for them.
I do just this every Monday when I meal prep for my vegetarian clients. This salad was developed just for them. They like extra leafy greens in every dish. I took that love of greens and ran with it, making them a filling fresh salad layered with vegetables of varying shades of green.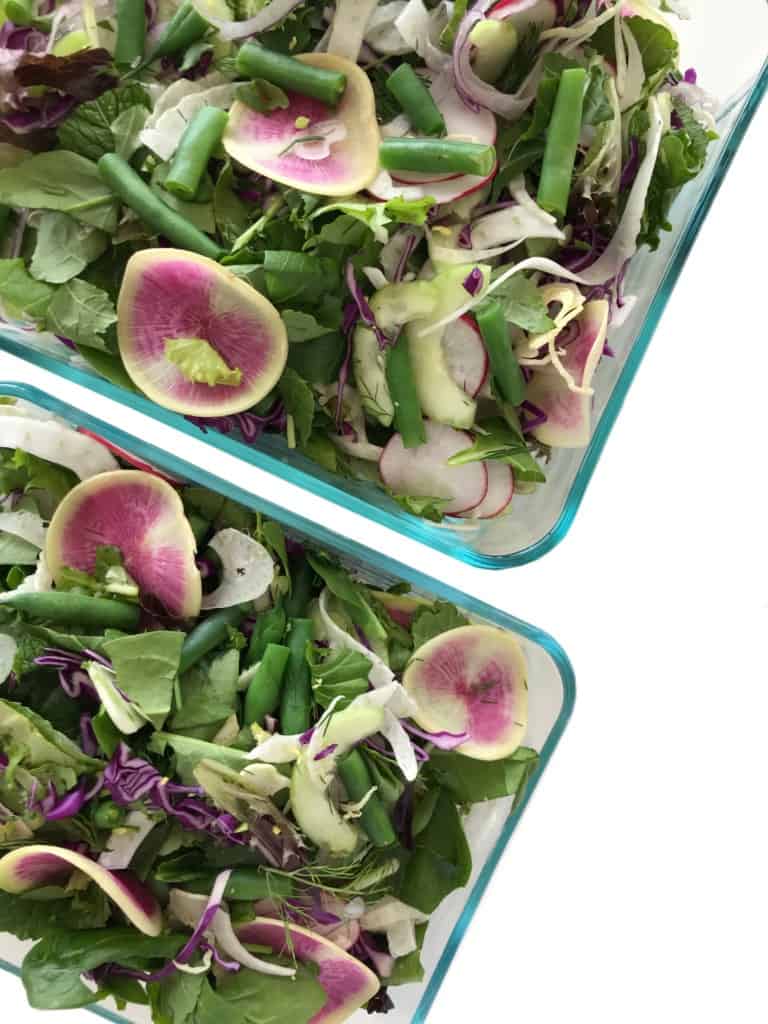 WHY USE A MANDOLIN SLICER
The key to this salad is the use of a mandolin. To insure thinly, consistently sliced vegetables, using a proper mandolin is a must.
I use the 1/8 setting and mini setting on my mandolin by OXO. These are the first two settings on the mandolin which result in thin slices. I use the mandolin when preparing the red cabbage, red onion, fennel, cucumber and radish.
This kitchen device is what sets your meal apart from a restaurant quality dish to that of a home cooked meal.
WHAT IS HALLOUMI
Halloumi is a staple in Mediterranean diets. You'll often see halloumi used in place of an animal protein in dishes all over the Med.
Halloumi is cheese, thick, firm, hearty and nourishing. Because of its texture and thickness, it lends itself to be warmed and seared in a pan. Hence it serves well as a replacement for animal protein.
WHAT IS BREAD CHEESE
Bread cheese is a great substitute when you can't find halloumi. It is a similar texture, color and taste.
If you can't find halloumi, swap it for bread cheese. It is a Finish version of a soft-firm cheese, very similar to halloumi and made primarily in Wisconsin. You will usually find it shaped as a large rectangle. It slices easily into ½-inch to 1-inch pieces. I serve 4 pieces as a portion.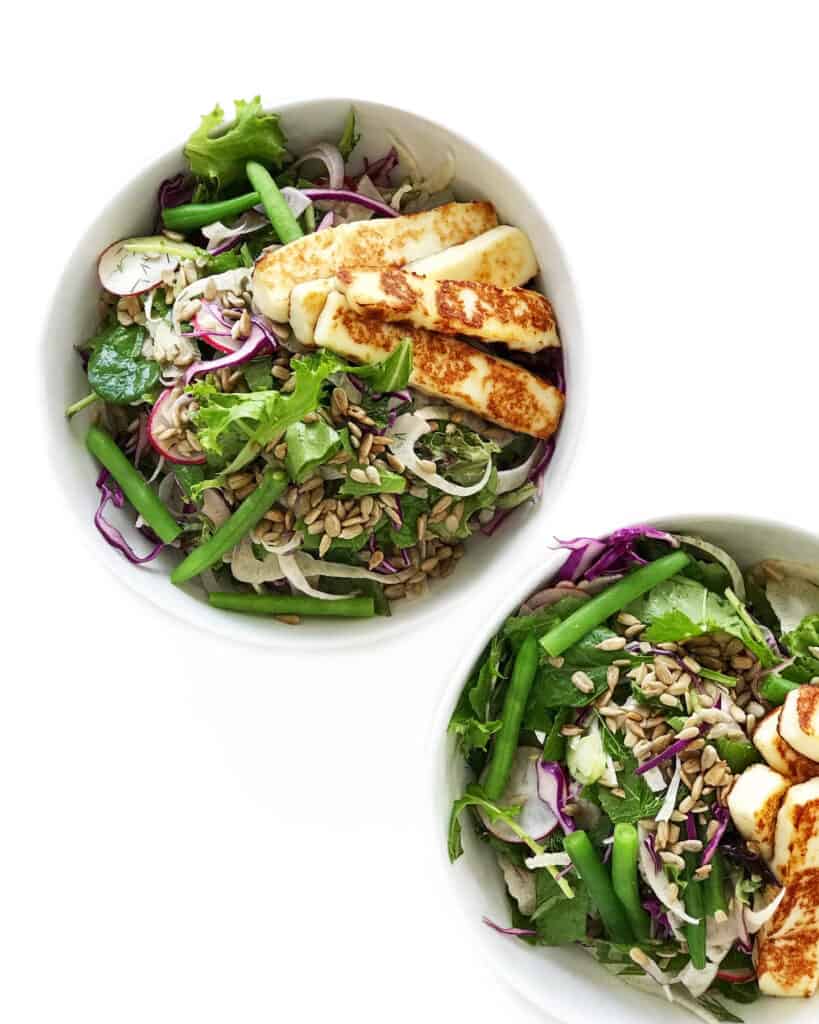 FRIED HALLOUMI OR SEARED HALLOUMI
To cook halloumi, all you need to do is warm 2 tablespoons of avocado or olive oil in a non-stick or ceramic pan. Once warm, lay down ½ inch thick slices of halloumi. Sear on medium heat for 2 minutes each side, or until browned and spotted as pictured.
I refer to this cooking method as searing. You will find recipes that suggest the same method but refer to the halloumi as fried. I prefer a cooking reference that is more health supportive.
CHEF TIP FOR MAKING A HALLOUMI SALAD
If making this for meal prep, add all items except the halloumi and sunflower seeds to the salad. When ready to eat, toss the mix with dressing, sprinkle with sunflower seeds and finish with the warm, seared cheeses.
Thinly sliced cabbage, fennel, radish, cucumber and red onion is what sets apart a restaurant versus a homemade salad. Consider investing in a mandolin to improve your salad skills.
Don't skimp on fresh herbs. Add at least 1 fresh herb, or all three if you have access.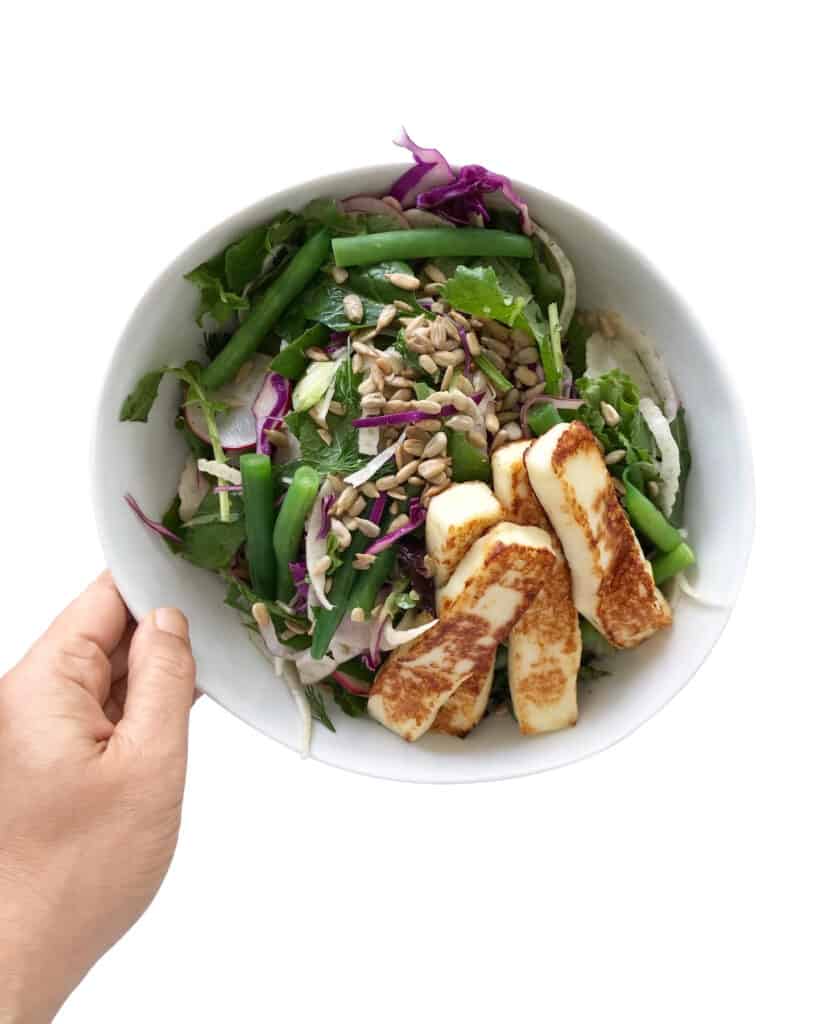 IF YOU LIKE THIS RECIPE CHECK OUT THE FOLLOWING
Print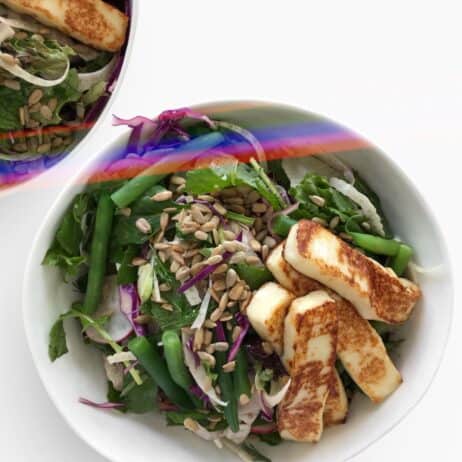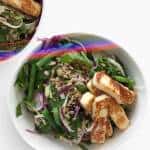 Halloumi Salad Recipe
Author:

Chef Whitney Aronoff

Prep Time:

20 minutes

Cook Time:

5 minutes

Total Time:

25 minutes

Yield:

4

–

6

servings

1

x

Category:

Lunch

Method:

Stove Top

Cuisine:

Mediterranean

Diet:

Vegetarian
---
Description
Fresh and healthy halloumi salad recipe with shredded fennel, cucumber, green beans and radish. Perfect for a meal prep lunch or clean eating dinner.
---
6

–

8

cups spring lettuce mix, rough chopped

1 ½ cups

shredded red cabbage

4 cups

shaved fennel, sliced in half (

2

bulbs)

1

cucumber, peeled, deseeded, thinly sliced in half moons

5

radishes, thinly sliced (shaved)

¼ cup

thinly sliced red onion, half moons

1 cup

green beans, blanched and sliced into

2

-inch pieces

½ cup

chopped parsley

½ cup

chopped dill

½ cup

chopped mint

½ cup

roasted & salted sunflower seeds

2 Tablespoons

avocado oil

1

package halloumi cheese
---
Instructions
Prepare your greens by rough chopping the lettuce and adding to a large salad bowl. Using a mandolin or sharp knife, thinly shred your red cabbage, fennel, cucumber, radishes and red onion. Toss well. Add fresh herbs and toss again till incorporated.
In a non-stick or ceramic pan, add avocado oil and heat on medium. Once had, add slices of halloumi. Sear on each side for 2 minutes till brown.
Toss salad greens lightly with Whipped Lemon Vinaigrette. Portion our into 4-6 salad bowls. Top with green beans, roasted and salted sunflower seeds and warm halloumi cheese.
---
Notes
Don't skimp on fresh herbs. Add at least one fresh herb, or all three if you have access or availability.
Thinly sliced cabbage, red onion, fennel, cucumber and radish is what sets this salad apart. Consider investing in a mandolin to improve your salad skills.
If making this for meal prep, add all ingredients to your salad container except sunflower seeds, halloumi and dressing. Add those three items when ready to eat.
Keywords: halloumi salad recipe, meal prep salad, halloumi cheese recipe, how to use bread cheese, salad for meal prep, fennel salad recipe, cucumber salad recipe, green bean salad recipe, spring salad recipe, clean eating salad recipe, healthy salad recipe, vegetarian salad with cheese, paleo salad with cheese, healthy spring salad
Thank you for reading. Follow Starseed Kitchen on Instagram, Facebook, and Pinterest for more Starseed Kitchen inspiration.