Ayurvedic Cleansing Green Kitchari Bowl
Ayurveda kitchari, a traditional healing and nourishing recipe with lentils, rice, vegetables and anti-inflammatory spices.
This version of the classic is prepared with red lentils simmered with fresh ginger, turmeric, spices, long grain rice, shredded zucchini, cauliflower and spinach. Top with fresh cilantro, for a healthy and hearty meal that is easy to heat up during the week.
This recipe can be prepared Vegan, Vegetarian and Plant Based, or with chicken bone broth. This kitchari recipe is Gluten Free, Whole 30 and is great for those with a whole foods, health supportive lifestyle.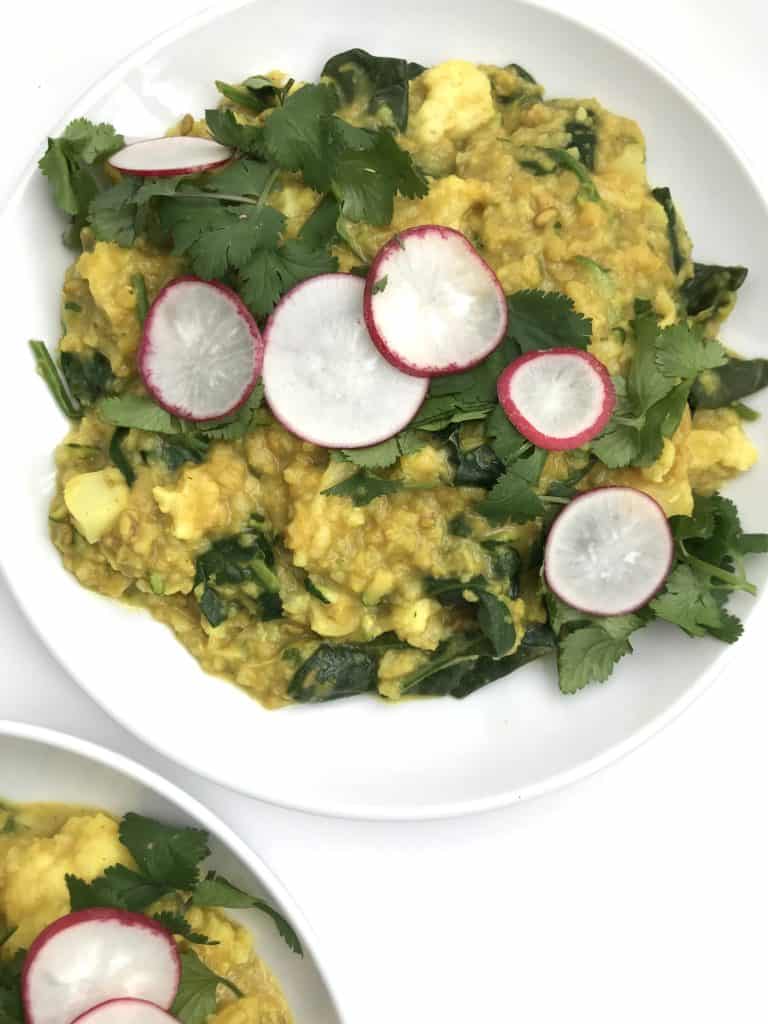 WHAT IS AYURVEDA KITCHARI
Ayurveda is an alternative medicine system with origins in India. The theory and practice of Ayurveda is 5,000 years old. It is the belief that disease only occurs in the body when it is out of balance and in dis-ease.
The food, drinks and herbs used in the practice of Ayurveda is all about creating balance in the body.
KITCHARI CLEANSE
The kitchari cleanse is an Ayurvedic practice of cleansing when the seasons change. When you eat kitchari for breakfast, lunch and dinner, along with broths, it allows your body to detox, cleanse, and prepare for the change in season.
A kitchari cleanse is often done for three days and includes incorporating meditation, yoga, massage, walks, and gentle lifestyle changes to help the body cleanse.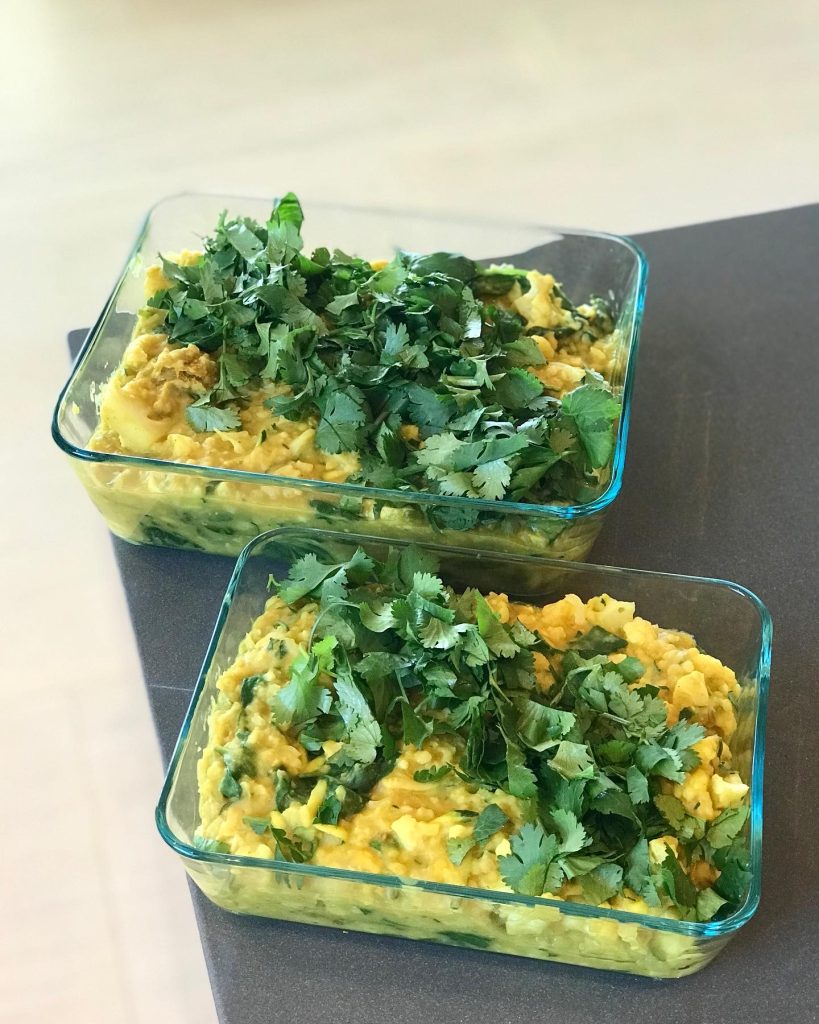 KITCHARI RECIPE WITH RED LENTILS
This kitchari recipe uses red lentils. Red lentils cook quickly, so this dish is ready in less then 30 minutes.
You can swap red lentils for yellow lentils or green lentils. If so, you may need 1 or 2 more cups of water or broth. The dish may need to simmer for an additional 10 minutes as well.
CHEF TIPS
Feel free to use any vegetables you like. Carrots, broccoli, chard, and kale all work well in this recipe.
For additional digestive support, soak the rice in water overnight. Drain it and rinse well before using in this dish. Rice can be soaked for up to 24 hours.
You may swap white rice for brown rice.
You may use water, vegetable broth or chicken bone broth for this recipe. What is most important is the quality. Be sure to use filtered water, fresh broth (not pasteurized and from a box). If you don't have homemade broth buy an organic version in the freezer section of your health food store.
IF YOU LIKE THIS AYURVEDA RECIPE, TRY THE FOLLOWING
Print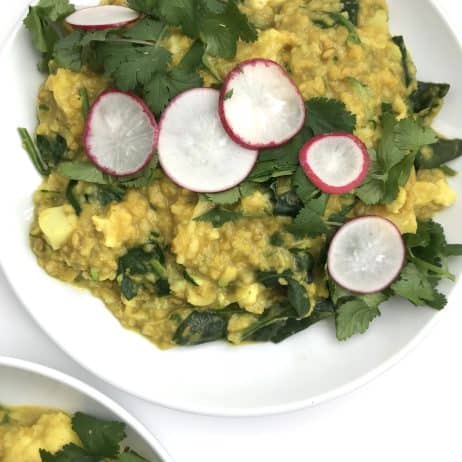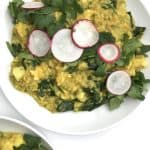 Ayurvedic Cleansing Green Kitchari Bowl
Author:

Chef Whitney Aronoff

Prep Time:

10 minutes

Cook Time:

30 minutes

Total Time:

40 minutes

Yield:

4

servings

1

x

Category:

Dinner

Method:

Stove Top

Cuisine:

Indian

Diet:

Vegan
---
Description
Traditional ayurveda kitchari, a healing, detoxing and nourishing recipe for lentils, rice, vegetables, anti-inflammatory spices.
---
1 cup

organic red lentils

1/2 cup

organic white rice (long grain preferred)

3 Tbsp

ghee of coconut oil

1 Tbsp

minced or grated ginger

2

t ground cumin

1 tsp

ground corriander

1 tsp

fennel seeds

1 tsp

fenugreek

1 tsp

turmeric

1 tsp

sea salt

6 cups

vegetable stock, chicken bone broth or water

1

–

2

zucchini, shredded

1

small cauliflower, rough chopped

2 cups

baby spinach

1

bunch fresh cilantro
---
Instructions
Rinse the lentils and rice under cold water until the water runs clear.
In a large pot, melt the ghee of coconut oil on medium low heat. Add the ginger for 30 seconds and let activate. Add the spices for 30 minutes and stir into the oil.
Add the rinsed lentils and rice, stirring to mix with the spices. Add broth. Bring to a boil, down to a simmer, cover and cook for 25 minutes. Stir occasionally to prevent sticking to the bottom of the pan.
Add cauliflower and simmer for an additional 5 minutes.
Add zucchini and spinach, stir to combine. Serve with fresh cilantro. Enjoy.
---
Notes
You can make this recipe with yellow lentils as well. They take an additional 10 minutes to cook.
Swap vegetables to what you have available organically and seasonally.
This dish is easy to reheat on the stove. Add to a small pot with a little water. Simmer, stirring frequently, till warm.
Keywords: ayurveda, ayurvedic, kitchari, kitchari recipe, kitchari bowl
Thank you for reading. Follow me on Instagram, Facebook, and Pinterest for more Starseed Kitchen inspiration. 
ABOUT THE AUTHOR
Hi, I'm Whitney Aronoff, a Holistic Chef based in Laguna Beach, California. I graduated from Southern Methodist University with a degree in Communications, and went on to the health supportive culinary school, The Natural Gourmet Institute, in New York City. I work as a personal chef and teach cooking classes, with a focus on healthy, whole foods cooking.

My goal is to help people feel their best by sharing the delicious, healthy recipes I prepare weekly for my clients. I want you to have the energy to live your best life and fulfil your dreams.
As we become more conscious and make more quality food choices, our body, mind, soul and the planet benefits.