The Best Tips I Learned at a Healthy Culinary School
A culinary school grad on the tips that changed my approach to healthy cooking
Four years ago, when I was laid off from my job, I knew it was a blessing. I had already requested an application to the Natural Gourmet Institute (NGI), a health supportive culinary school in New York City. For months I had been trying to figure out how I could take a sabbatical, move to New York, and attend NGI full time. My wishes were granted, and within weeks of my layoff, I submitted my application and was accepted. So long Human Resources career, hello chef life.
I chose NGI because they were the first healthy culinary school in America, started in the 1970's by macrobiotic pioneer Dr. Annemarie Colbin. The curriculum emphasized seasonal, whole foods cooking. I wanted to go to a school that would improve my cooking skills while educating me on all the philosophies of healthy living. I found that at NGI, where they believe if you can make a plate of vegetables taste delicious, you can make anything.
For six months I studied and prepared macrobiotic meals, practiced ayurvedic techniques, and prepared gluten-free cookies. I baked three-tiered vegan cakes, whole-wheat scones, and mastered 'healthy' apple galletes (which I got an A+ grade). I loved every minute of it and didn't want the program to end.
As I know, not everyone can take a sabbatical from their career for a stint at culinary school, so I wanted to share some of the key lessons I learned that anyone can apply in their kitchen. I went to NGI for healthy cooking, and left with overall life skills I can apply every day.
Here are seven insights I learned about food, sourcing and cooking, that completely changed the way I approach how I play in my kitchen.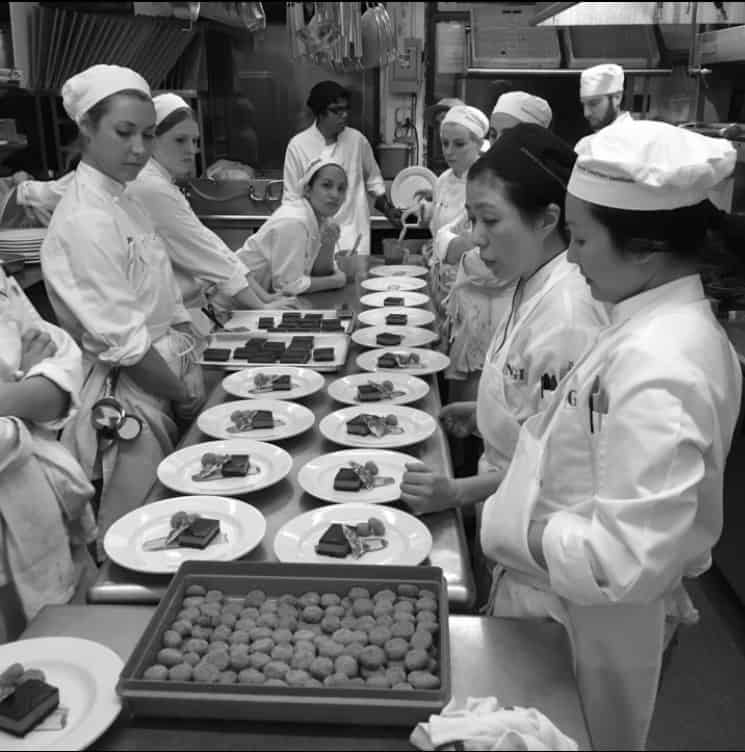 WASH YOUR GRAINS
Yes, really. We've all seen the directions on the quinoa bag. Rinse before cooking. But how many times have you actually followed the cooking directions? Grains get touched by many people and travel a long way to arrive at our supermarket. Like anything you are cooking, washing them removes dirt, starch and improves flavor.
I wash all grains, except for steel cut and traditional oats. Pick up a sieve at Target, TJ Max, or your local cooking store for $5 or less. Simply place your cup of quinoa in a mesh strainer rinse. Shake out excess water, and poor directly into your cooking pot. It's that easy, and well worth the effort.
USE ORGANIC SPICES
Reading the list of ingredients is just as important as any other food product you purchase. When you buy spices labeled Organic and Non-Irradiated it insures you are getting what you want. You may want cinnamon or turmeric, but that's not what you always get. Many companies add ingredients to prevent the color from changing, stop clumping, or will add sugar for 'better flavor'. You won't find these additives when you reach for Organic spices.
Quality affects taste, so you want to buy your spices from brands you trust. This will insure you are getting a product without questionable ingredients. Look for labeling such as organic, NON-GMO, non-irradiated, NON-ETO.
WHEN IN DOUBT, GO ORGANIC
Yes, the so-called Dirty Dozen list of the 12 most heavily pesticide sprayed produce is good to follow. But sometimes we forget what is on that list. So I say, when in doubt, go organic. Leafy greens are a definite yes. Anything you will peel is optional.
Check to see if the produce was shipped in from another country. If so, buying organic means that produce was not irradiated. Non-organic produce shipped in from another country is often irradiated (even bananas). Just something to keep in mind. So when you reach for those apples or head of lettuce, go with what feels right (and works with your budget).
INVEST IN ONE GOOD KNIFE
Chopping vegetables with a dull knife is more dangerous than a sharp knife. Truth. All you really need is one good knife. Keep it sharp by taking your knife in to get sharpened seasonally.
You can get your knife sharpened at Williams-Sonoma, a local culinary store, or a restaurant supply store. You can also check your local farmers market for a knife sharpener.
THERE IS NO RIGHT WAY
That's right. A recipe is just a suggestion. You, as the cook, will determine the right amount of seasoning and cook time for your pallet and cooking conditions. When it comes to baking, following the measurements is more important to produce the desired outcome you see in that cookbook.
Overall, look at each recipe as a guide, and then make it your own. Don't be scared to change out one of the ingredients, or concerned about chopping a vegetable just right. The best new recipes come from making mistakes.
KEEP IT SIMPLE
If you buy good quality produce and proteins, you don't need to cover them up with sauces and spices. Instead, prepare your food so the flavor shines through by using less ingredients.
The other benefit of this is better digestion. The fewer ingredients, the easier it is for you body to breakdown all your food. This means you will feel better after a meal.
HAVE FUN
Yes, this is a culinary school tip. I am type A, and approach everything in life wanting to do it the 'right way'. It wasn't till culinary school, when I was having a melt down over not knowing how to make an egg white meringue just right to go over black sea bass, that I learned this lesson. Lighten up. Have fun. Do your best. Follow your intuition. It will turn out great. If it doesn't, you learned something new. If it does turn out 'perfect' you learned something new too.
Stop obsessing over getting a recipe right. If you don't have an ingredient, do your best to substitute, but don't dwell on it. Just get in the kitchen and have fun. Don't be scared of a new technique, a new ingredient, and new way of making food.
Cooking is fun and rewarding. So lighten up and enjoy. Why cry over a gluten-free vegan cookie? Cookies are meant to be enjoyed, so find the joy in making them.
YOUR CHOICES MATTER
Whether your are buying produce for a restaurant kitchen, or for your own home, your food choices matter. How you choose to spend your money on food affects the economy, and our options as healthy food consumers. Where our money goes determines future supply.
If you choose to spend your money on local, in season produce, it will support small farms and help them to continue this movement. You may be just one person, but your choices matter and effect change. Same with your choices when you eat out.
If you choose a farm-to-table restaurant over fast food. Or choose the vegetarian dish, or seasonal fish on the menu. That sends a message, and effects how the restaurant preps for the next dinner night. It will then effect their food ordering, the amounts they stock, and where they source. This trickles down to the restaurant supplier, and back to the farmer. Get it?
If we as consumers demand a level of quality and transparency in our food, we will start to see more of it. One at a time, we can create a more sustainable food system in America and around the world. Your choices matter.
ABOUT THE AUTHOR
Whitney Aronoff is a Natural Foods Chef based in Laguna Beach, California. She graduated from Southern Methodist University with a degree in Communications, and went on to culinary school at The Natural Gourmet Institute in New York. She works as a personal chef and teaches cooking classes, with a focus on healthy, whole foods cooking. You can follow her food and travel adventures on Instagram at @WhitneyAronoff or on her website www.WhitneyAronoff.com.