Low Vibration Foods
Learn about low vibration foods, what they are and how to avoid them so you can eat more high vibe foods and live a high vibration life.
Download the complete guide and food list from Chef Whitney Aronoff here.
WHAT ARE LOW VIBRATION FOODS
Low vibration foods are those lacking life force energy. Foods that are not going to transfer energy and life force to us.
We can get energy from many places: yoga, singing, having fun, experiencing joy, time in the sun, eating fresh food are some examples. Why choose to eat food that is not going to fuel you?
Low vibration foods will require you to eat more to gain the energy you are looking for. They are low in nutritional content, so you need to eat more to feel full and be satiated.
WHAT ARE HIGH VIBRATION FOODS
High vibrational foods are those foods full of life force energy. It is the combination of the source and quality of your food, combined with intention, when preparing a meal. This includes organic vegetables, local fruit, whole heirloom grains, traditional fats and quality sourced poultry and fish.
We have the power to shift our food to a higher vibration so we can absorb the maximum cellular benefits and reenergize. You can make any meal a high vibrational one when you choose real, whole ingredients and prepare your food with intention.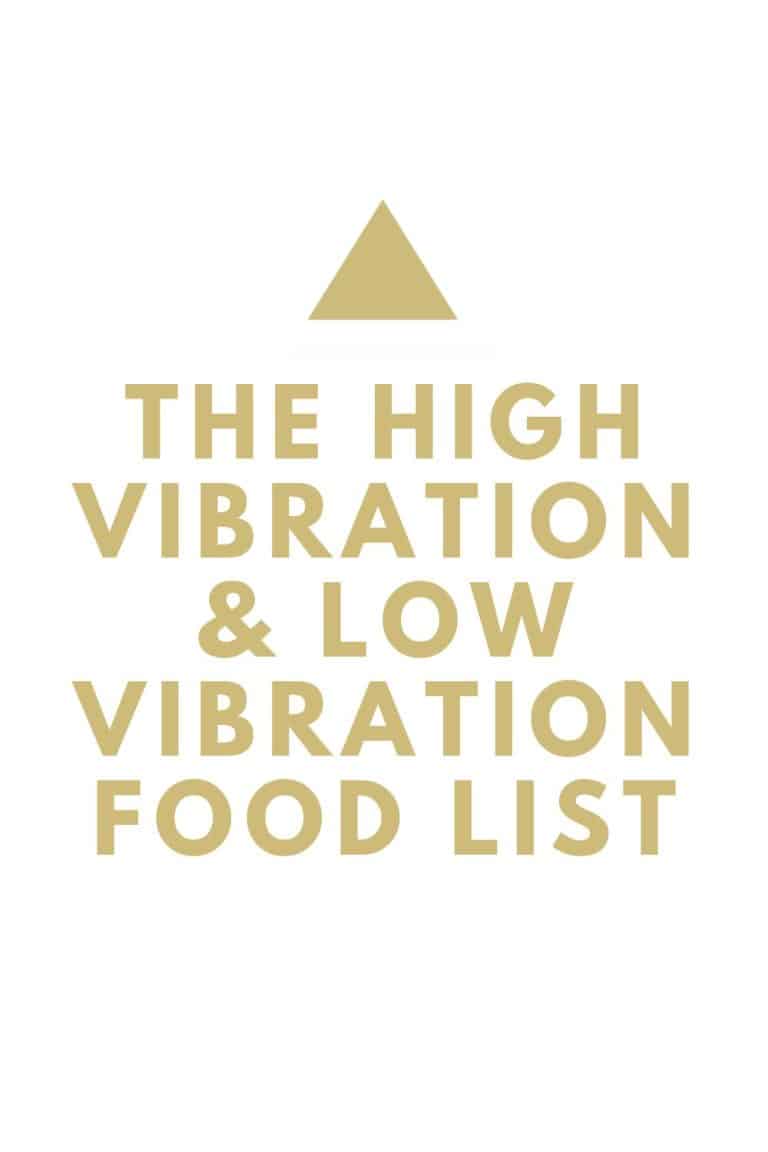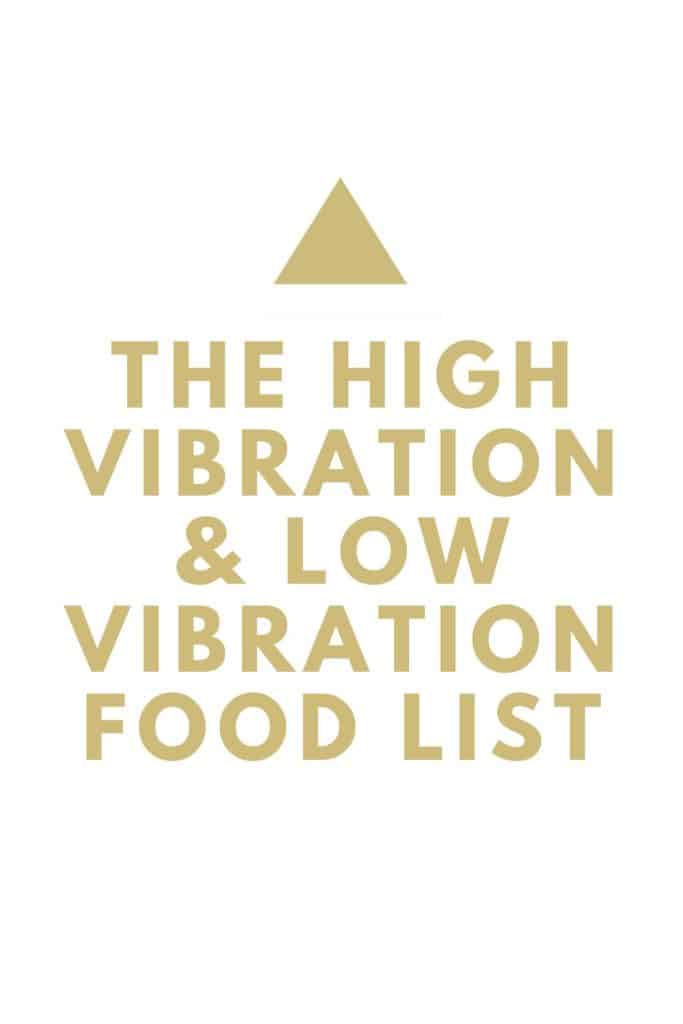 HOW DO LOW VIBRATION FOODS MAKE US FEEL
Each body reacts differently to processed foods and sugar. It depends on how full, or damaged, one's filtration system is (such as the liver, intestines, lymphatic system, etc.). It can also do with how you are developed spiritually. Mediums, physics, empaths are all more sensitive to processed food.
In my case, I develop the following symptoms after just a bite of generic pasta, a basic store-bought cookie or pastry. They include a sore throat, flushed face, red cheeks, puffy face, puffy fingers, allergy attack, itchy skin, bloating, gas, overall upset stomach, arthritic conditions in my body, night sweats, brain fog and the feeling of being hung over.
None of these feelings are OK. Nobody should feel this way and think that this is just a symptom of getting older. This is why these foods are considered low vibration. 
LOW VIBRATION FOOD LIST
Processed food.
Long term shelf stable food.
Food with added preservatives, food colorings, MSG, etc.
Food that can only be prepared in a microwave.
Pre-cooked food such as '3-minute rice' or 'quick oats'.
Food void of life force energy.
HIGH VIBRATION FOOD LIST
All food in its organic state.
Whole and unprocessed foods.
Fresh, seasonal, organic and local food.
All fruits and vegetables in their natural state
Pure or filtered water and water in glass bottles
Herbal teas, twig teas, organic green tea
Culinary herbs and spices that are organic, non-GMO and non-irradiated
Real sea salt
Download the full list plus tips on how to raise the vibration of any meal.
HABITS THAT MAY LOWER YOUR VIBRATION
Microwaving foods and beverages
Gossiping
Over use of technology
Behavior that is not in line with your moral compass
Negative attitude
Eating processed foods, packaged foods, canned food, foods with preservatives, artificial colors and food made with GMO ingredients
THE COMPLETE HIGH VIBRATION FOODS & LOW VIBRATION FOODS LIST
Get the complete list of High Vibration Foods and Low Vibration Foods from Chef Whitney Aronoff here on WhitneyAronoff.com.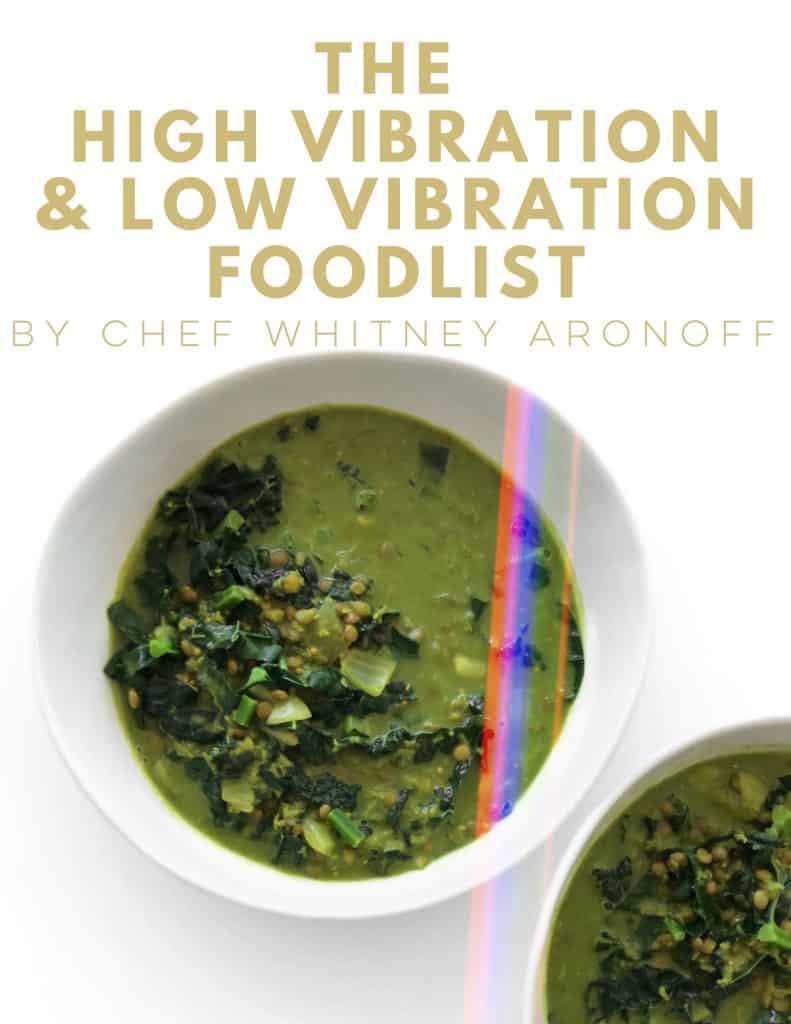 Thank you for reading. Follow Starseed Kitchen on Instagram, Facebook, and Pinterest for more Starseed Kitchen inspiration.