Top 5 Foods For Raising Your Vibration
DISCOVER THE POWER OF HIGH VIBRATION FOODS
You are what you eat. Choose these top 5 foods to raise your vibration for high vibration living and longevity. Nourish your body and boost your well being. Eating high vibration foods is easy.
Keep it simple. The foods you consume should be whole, fresh, local, traditional, unprocessed, and properly prepared. Here is some insight to get your started.
WHY EAT HIGH VIBRATION FOODS
When you eat nutrient-poor, unbalanced, processed food, your energetic vibration is reduced.
You feel tired, sluggish, foggy, slow, sad, depressed, anti-social. You may struggle to attract the things in your life that you desire and, over time, a heavy density will grow around you.
When you choose fresh, vibrant, nutrient-dense, balanced, seasonal foods, that energy frequency is transferred into you. You will feel the light, fresh, vibrant energy you saw in the food. That is the energetic frequency transfer we get with food.
Choose the food for how you want to feel.
You feel alive, awake, in tune with the universe, and people around you notice your glow. You find that you easily and effortlessly attract the things you most desire and the density evaporates.
TOP 5 HIGH VIBRATION FOODS
These are Chef Whitney Aronoff's 5 favorite high vibrations foods.
Use this list to raise your vibration. As a Personal Chef, she knows it takes more than just a whole foods diet to live a healthy and balanced life. You are what you eat.
LEAFY GREENS
Leafy greens are considered high vibration foods due to their nutrient density and overall health benefits. These foods are packed with antioxidants, vitamins, and minerals that support our immune system, promote healthy digestion, and reduce inflammation.
Consuming leafy greens on a regular basis can help to increase our energy levels, improve mental clarity, and enhance overall well-being.
SEASONAL VEGETABLES
Seasonal vegetables are also high vibration foods because they are fresh and in their natural state. These vegetables are grown locally and picked at their peak ripeness, which means they are packed with flavor and nutrition.
Eating seasonal vegetables can help to reduce our environmental footprint by supporting local farmers and reducing the need for transportation and storage of produce.
FRESH CITRUS
Fresh citrus fruits such as lemons, limes, and oranges are considered high vibration foods due to their high levels of vitamin C and other antioxidants. These fruits have been shown to support our immune system, reduce inflammation, and improve overall health.
In addition, citrus fruits are known for their refreshing and energizing properties, which can help to uplift our mood and increase mental clarity.
ROSE WATER
Rose water is another high vibration food that has been used for centuries for its healing and rejuvenating properties. This fragrant water is made from the petals of the rose flower and is rich in antioxidants and essential oils.
Drinking rose water can help to reduce stress and anxiety, improve digestion, and promote healthy skin and hair.
FRESH IN SEASON FRUIT
Finally, fresh in season fruit is a high vibration food that is both delicious and nutritious. Fruits such as berries, melons, and peaches are packed with vitamins, minerals, and antioxidants that support our health and well-being.
Eating fresh in season fruit can help to reduce our risk of chronic diseases, boost our energy levels, and promote healthy digestion.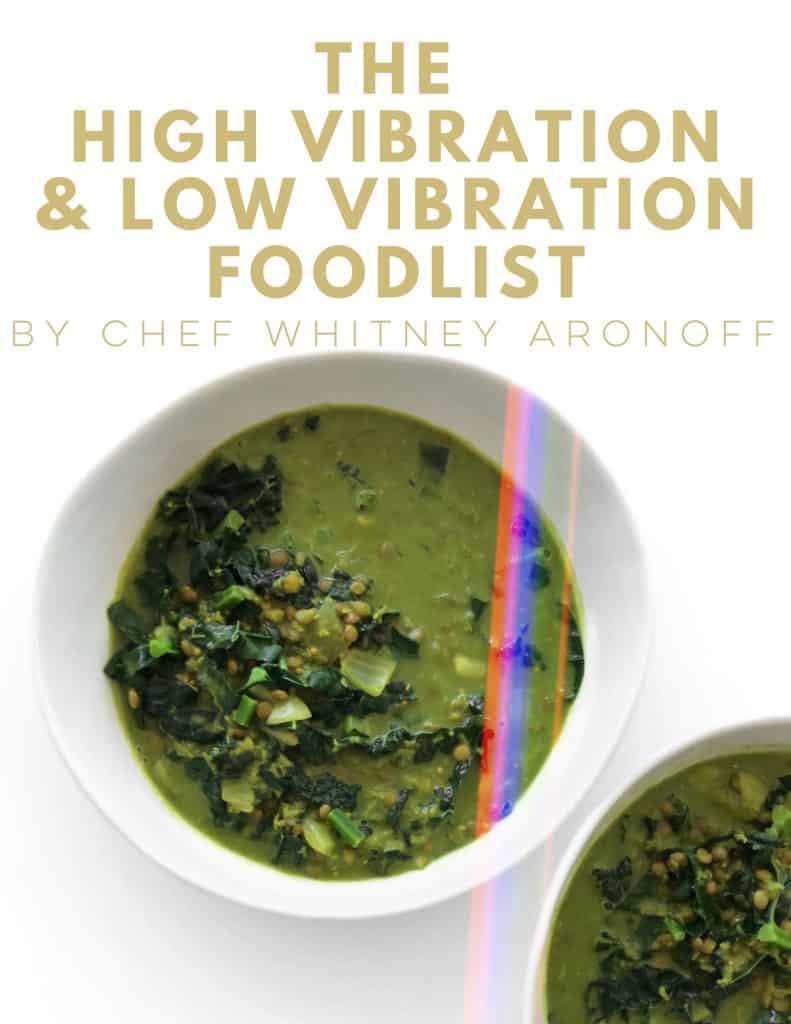 THE BENEFITS OVERALL OF HIGH VIBRATION FOODS
Overall, incorporating high vibration foods into our diet can help to improve our physical, mental, and emotional health. These foods are nutrient-dense, fresh, and in their natural state, which means they are packed with flavor and nutrition.
By choosing to eat leafy greens, seasonal vegetables, fresh citrus, rose water, and fresh in season fruit, we can nourish our body and support our overall well-being.
For more about high vibration foods, get the High Vibration Foods PDF.
Thank you for reading. Follow Starseed Kitchen on Instagram, Facebook, and Pinterest for more Starseed Kitchen inspiration.